Thursday, November 06, 2003
Bush signs partial abortion bill.
Yesterday, Bush signed the partial abortion bill into law.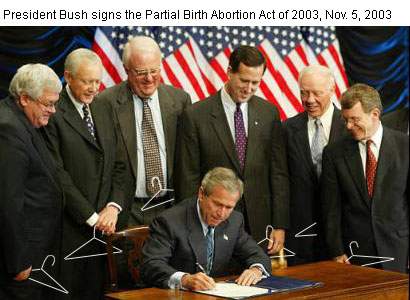 #
posted by scorpiorising : 4:29 AM |
Tuesday, November 04, 2003
Kucinich, Ohio and Hunger in America
Kucinich in Rolling Stone
and
hunger in America
, via the Guardian.co.uk.
Why do I link these two? Because the guardian talks to people in a soup line Ohio, Dennis's home state, and cites the
soaring statistics of poverty
in Ohio:
In Ohio, hunger is an epidemic. Since George Bush won Ohio in the 2000 presidential elections, the state has lost one in six of its manufacturing jobs. Two million of the state's 11 million population resorted to food charities last year, an increase of more than 18% from 2001.

In Logan, over 500 families regularly turn out twice monthly at the food pantry run by the Smith Chapel United Methodist Church.

"In all our history starting in the mid-80s we've never seen these numbers," said Dannie Devol, who runs the pantry. The food comes from a regional food bank, which is stocked by a mix of private donations and food bought from local farmers by the government.
Dennis is getting a lot of "star" attention right now. Does he have the gumption to stand in the soup line in his home state and talk to the people who are being drastically affected by Bush's economic policies? It would bring much needed attention to the most basic symptom of a failed economic policy: a rise in hunger in America. And, it would bring attention to a state suffering a great deal from one of the basic causes of the demise of our economy, the loss of manufacturing jobs in America.
I don't begrudge Dennis his moments in the sun, by the way. I'm actually kinda proud of him. I just happen to believe it would be a good campaign strategy, as well as humanely necessary, to visit the soup kitchen in his home state: It would show a certain quality of courage, and illuminate issues.
#
posted by scorpiorising : 8:13 AM |
Truth and distortion.
Is manufacturing activity surging, as reported by the Institute for Supply Managment (ISM), as
widely reported in the press
?
NEW YORK (CNN/Money) - U.S. manufacturing accelerated in October, the nation's purchasing managers said Monday, in a report that surpassed most forecasts on Wall Street.

The Institute for Supply Management (ISM) said its index of manufacturing activity jumped to 57 from 53.7 in September. It was the fourth straight month the ISM index was above 50, a number that indicates expansion in the sector.

Economists, on average, expected the ISM index to rise to 55.8, according to Briefing.com.

"This is the best report that we have seen in quite some time in terms of the overall strength of manufacturing," said Norbert Ore, chair of the ISM Manufacturing Business Survey Committee. "The picture continues to improve, and it appears that manufacturing will finish 2003 on a very positive note, assuming the recent trend continues."
Wampum
breaks it down for us, after visiting the ISM web site:
Now to be honest, I never got past the "surges", as I was unaware that the ISM report was in fact due out today. After surfing over to their website for the official report, I was confronted with a somewhat less "rosy" analysis:
ISM's Backlog of Orders Index indicates that order backlogs improved again in October. However, manufacturing Employment continued to decline in October as the index remained below the breakeven point (50 percent) for the 37th consecutive month. ISM's Prices Index indicates that manufacturers experienced higher prices for the 20th consecutive month. New Export Orders grew in October for the 22nd consecutive month, while October's Imports Index grew for the 12th consecutive month.
Comments from purchasing and supply managers seem to be lagging the data. The indexes indicate significant improvement, but the purchasing and supply managers' comments do not reflect this trend. It appears that some industries are not yet experiencing the upturn.
Hmmmm...that doesn't sound so great... Time to read more of the CNN report:
The ISM noted, however, that some parts of the manufacturing sector have yet to improve, based on comments from individual purchasing and supply managers that were still cautious.
"It appears that some industries are not yet experiencing the upturn," the ISM report said....

The employment index rose to 47.7 from 45.7 in September, indicating manufacturers were still cutting jobs, but at a slower pace.

"We're still seeing job cuts in manufacturing, and it's going to stay that way for some time," said Robert Brusca, chief economist at Native American Securities in New York."
[
Note: Yes, there is a large financial institution run by Indians which is oft quoted in mainstream media outlets.]

So the news is really not all that different from recent months; A significant Keynesian upsurge based upon consumer spending due to one-time middle-class tax credits, but which fails to motivate businesses to increase employment versus fall back on an upswing in productivity.
#
posted by scorpiorising : 7:38 AM |
A moment in the eye of the storm.
Riverbend of
Baghdad Burning
offers us a moment in the eye of the storm, and a description of Ramadhan. Her writing speaks for itself:
After the soup, comes a whole procession of often traditional foods… maybe I should post the recipes. There's so much food because the 'futtoor' is more of a daily celebration than it is an ordinary meal. During previous years, we would spend almost every day breaking our fast with various family or friends. This year is different because the security situation doesn't allow for traipsing around Baghdad or other provinces on a daily basis. It's also not the same because, under normal circumstances, our 'futtoor' gatherings often last well into the night, sometimes past 12 am, before the group breaks up to go home.

The neighbors are often a big part of the month. If they're not dropping by to sample futtoor, then they're sending over a plate of something for you to sample. We also get together to agree who will be sending food over to the local mosque to feed the mosque keepers and the Imam, and to arrange who will be sending what to the more destitute families in the neighborhood. Ramadhan is the time of year when we put aside neighborhood differences (like the fact that Abu K.'s dog howls at anyone who goes down the street), and combine culinary skills and a general feeling of empathy.
#
posted by scorpiorising : 7:26 AM |
Monday, November 03, 2003
The loyalty thing.
Bush has gone dangerously down a path many failed, totalitarian-leaning leaders have gone. That of demanding, and giving, unquestioning loyalty to his followers, all the while not realizing that, while he is leading, he is also doing a great deal of following. For those who are unquestioningly loyal, then there can be little questioning of each other. However, the shit is hitting the fan so often, there has been a sort of implosion, and old-fashioned semblance of purging, and the scapegoating and targeting of Rumsfeld.
In this case Rumsfeld bore the brunt, probably in spite of the fact that after 2000, they all helped in creating this horrible policy of preemptive war. Rumsfeld planned the war based on their neocon policy, complete with all of its false assumptions, but now he is an easy target because their beliefs did not bear out in reality.
Now you tell me, will Condeleeza Rice read lullabies to George Bush when he is old and gray and possibly senile?
Hell no, she will have long ago moved on. The imcompetents have circled the wagons for now, because there is nothing left to do but try to protect themselves from charges of imcompetence. Bush, like most totalitarian leaning- leaders who seldom dare to question themselves, much less allow others to question them, place emphasis on a kind of loyalty that is vacuous and dangerous. They are loyal to imcompetence. They are loyal to faulty beliefs, unwilling to face the idea that they might be wrong in their current assumptions about reality. Some are looking for escape.
Look for some important defections. Look for Bush to become increasingly more irrational. Look for Bush to possibly manufacture a crisis to keep himself in office. Heaven help us.
#
posted by scorpiorising : 8:48 AM |
New York Times: Is Diebold and others trying to squash freedom of speech?
Commondreams.org published
this article
from the New York Times, on the efforts of corporations who own the voting machines to recover stolen emails and documents that have been circulated online:
Nelson Pavlosky, a sophomore at Swarthmore from Morristown, N.J., who put documents online through the campus organization Swarthmore Coalition for the Digital Commons said the cease-and-desist letters were "a perfect example of how copyright law can be and is abused by corporations like Diebold" to stifle freedom of speech. He said that he and other advocates wished the college had decided to fight instead of take down the files.

"We feel like they wimped out," Mr. Pavlosky said.

But with each takedown, the publicity grows through online discussion and media coverage, and more and more people join the fray, giving Diebold's efforts a Sorcerer's Apprentice feel. The advocates, meanwhile, are finding that civil disobedience carries risks. One student who posted the documents and has received a letter, Zac Elliott of Indiana University, said, "I'm starting to worry about the ramifications for my entire family if I end up in some sort of legal action."

Copyright law, and specifically the Digital Millennium Copyright Act, are being abused by Diebold, said Wendy Seltzer, a lawyer for the Electronic Frontier Foundation, a civil liberties group. Copyright is supposed to protect creative expression, Ms. Seltzer said, but in this case the law is being evoked "because they don't want the facts out there."

The foundation is advising many students informally and helping them to find legal aid, and it is representing the Online Policy Group, a nonprofit Internet service provider that got a cease-and-desist letter from Diebold after links to the documents were published on a news Web site that the group posts.
#
posted by scorpiorising : 7:26 AM |
Mayor Ray Nagin set to endorse...
Mayor Ray Nagin is set to make an endorsement today in the governor's race. It is increasingly likely that he will endorse Jindal. I called his office this morning and left this comment:
Shame on Mayor Nagin is he endorses a candidate from the Republican party, the party that has voted in tax cuts for the wealthy, while rejecting the needs of the working class.
As far as I am concerned, the battle lines are drawn, and we have to hold politicians responsible for their actions, and endorsements.
#
posted by scorpiorising : 7:22 AM |
Sunday, November 02, 2003
Blanco takes a swing.
just saw an ad by Blanco in which she takes a swing at the "Washington Politicos" who are behind the negative ads by Jindal. It's a start. She's got to find a way to motivate african Americans to the polls, and she's got to do this by exposing Jindal for the republican operative that he is. Here is more on the election from Stephen Sabludowsky on
BayouBuzz.com:
As we ready for Halloween, a new Louisiana governor's poll shows the balance of the campaign might not be much of a treat for Lt. Gov. Blanco—unless she has a few tricks up her sleeves.

According to an Associated Press story released today, Bobby Jindal received 49 percent compared to Blanco´s 38 percent in an independent poll by Verne Kennedy of the Pensacola, Fla.-based Marketing Research Insight. The poll had a margin of error of plus or minus 4 percentage points. The gap between the two candidates for our state's highest administrative office is widening.

According to sources, various business people with an interest in the race commissioned the poll.

Along with the widening numbers, Blanco's favorability ratings have dropped significantly from 66 to 47 percent within a two-week period.

Assuming the accuracy of the poll, why the gobblins in Mrs. Blanco's numbers? Here are some possible reasons for the recent polling gap:

The Madam is a Ghoul

The Jindal camp has successively painted Blanco as being "negative ogre". In my view, this is truly a shame since she has given so much positive to this state, but in the land of politics you reap what you sow. She formerly criticized her democratic opponents for piling up upon her at the last moment of the first primary. Then, instead of bellowing the virtues of her record, she has criticized Jindal's record. This "negativity" could explain her drop in "favorability ratings"-- which is usually a spin-off of negative or perceived negative campaigning.

The Ghostly Candidate

According to the Jindal camp, Blanco does not want to debate. She publicly said she had to get out and raise money, which, most would say was true. But, she could have received millions of dollars in free advertising discussing health care, tourism, economic development, schools, crime and the other laundry list of issues. Even yesterday, according to news reports, she failed to show up for a face-to-face television debate in Alexandria and a meeting with the municipal mayors. This is not the way to win over an audience—especially one with so much clout such as Mayor C. Ray Nagin of New Orleans who indicated that he still had an open mind.

Apple Bobbing

Bobby Jindal has played it smart. He has voluntarily put his financial records online so the community could see in almost "real-time" from where he was getting the core of his financial support. In contrast, Mrs. Blanco has retreated to the letter of the ethics law and has refused the "Jindal challenge"—whether the challenge was a political gimmick or not. The net effect of the campaign financial tactic showed Jindal is flush with money and has taken away the surprise regarding where he has obtained his funds. Meanwhile, Mrs. Blanco might say she is not going to allow Jindal to run her campaign, but, the young man wins the apple for campaign openness.

Costume Ball
It has not done Mrs. Blanco any good to parade a bunch of political stiffs on a stage to show her support. As many writers and pundits say, these endorsements--in this day and age of information-- are virtually meaningless. St. Tammany Parish is not Tammany Hall.

After all, which is a better haul—a Billy Tauzin and David Vitter versus a John Breaux. After a while, when the endorsements fall straight upon party lines, they masquerade the true reasons for the support and lose their inherent values.

As New Orleans Mayor C. Ray Nagin said in a press conference yesterday, the public doesn't seem to be responding solely based upon traditional party lines. Blanco has piled up some impressive democratic endorsements. But, because these endorsements are cosmetic in nature—Republican vs. Democrats—they are meaningless to the average voter. They might help with getting out party apparatus and some fund raising, but, the real test will be election day—as to whether any of these endorsers can get out the vote

The Fall

It is no surprise that Halloween's colors are gold, orange and red. The holiday represents the fall of the leaves and the beginning of the cold. Does this Kennedy poll signify the falling thermometer of Mrs. Blanco's gubernatorial demise after weathering a grueling "hot" highly-competitive and sultry campaign?

Headless Horsewoman

Whatever the reason for the recent gap, this poll could be the beginning of the end for Mrs. Blanco unless she rides a different horse. Her campaign is headless. The more she goes negative, the more positive Jindal looks. The less she debates, the more she appears mute. The less she reveals her finances, the more she looks like she has something to hide. The more she goes after endorsements, the more she comes across as a traditional politician.

Mrs. Blanco has a record she can stand on and she needs to get in front of the public with Ichabod Jindal at her side and let people know her record and her philosophies and debate the differences. Up until now, her secret quest of lining up political endorsements and funding her treasury is the "witches brew" for campaign failure.
#
posted by scorpiorising : 7:32 AM |
The state of the democratic party.
A friend of mine posted my "Sense of Dread" post to the chairman of the democratic party in Louisiana, Scott Arceneaux. Here is what he had to say about it:
Thanks for your concern and your are correct in many respects. Jindal does have one of the best media people in the nation. Ms. Blanco is using her local consultant who is very good but we are working with a lot less money and resources. Please know we are working very hard with everything we have.
Thanks
Scott

He doesn't address the content or quality of her campaign, which I feel is sorely lacking. She's got just two weeks to initiate a change-around. It's not likely that she will do it. I'm going to keep pressing though. Maybe somehow I can reach Blanco. I know that her money doesn't meet Jindal's, but a few well-placed ads, and remember the freedom and the power of the press conference, could help turn this campaign around.
This lack of fight and organized resistance to the encroachment of the republican party was apparent in California as well. It's like democrats still have not realized the republicans will distort distort, distort, possibly lie, manipulate, and distort some more in order to win. You almost have to admire their sense of evangelical righteousness, obviously rooted in their religious beliefs. Jesus fucking Christ, some of them believe they are the party of God.
The democrats, to counteract this near-fanaticism, need to use cold logic, address each and every attack; don't let them get away with shit...and go on the offensive always and often. Challenge their fallacies and views. This is, after all, a war of idealogy. It is a battle over what kind of country we will evolve to.
Democrats behave as if they are sleep-walking. There is also obviously an on-going identity crisis. What kind of party are we, and who do we represent? Camille Paglia was right recently when she said, in a Salon.com article, that no one is addressing the problems within the democratic party, and how to regain power for the party of the people. Everyone is writing books on how awful the republican party is, but no one is writing on the failures and need for change withing the democratic party, she said.
She is right. In my view, if you aggressively address the needs of the working class, which are the majority in this country, the people will come to your aid. That is my belief, as far-fetched as it may seem.
There is so much to write on this subject. More later.
#
posted by scorpiorising : 5:34 AM |