Saturday, October 30, 2004
More collage, this time by Micah Wright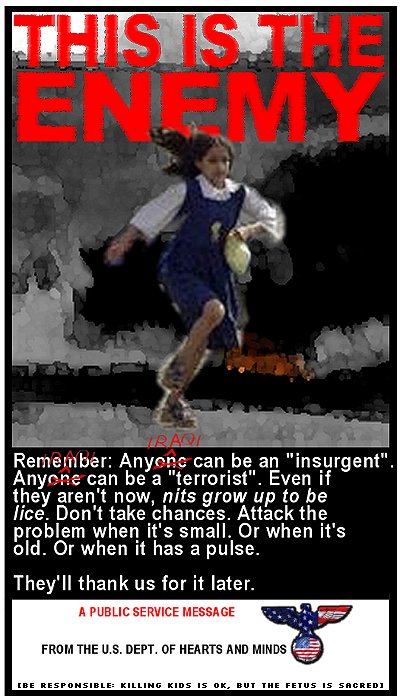 #
posted by scorpiorising : 11:47 AM |
breaking through the barriers
political collage by Susan Schraft, Clifton Park, NY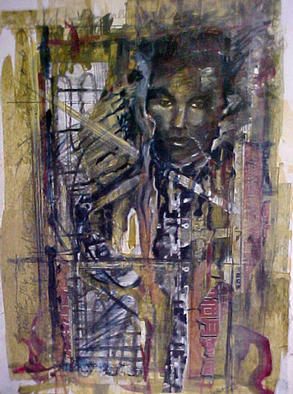 #
posted by scorpiorising : 11:25 AM |
Scary Al Qaeda tape
Then there is this tape released by ABC on thursday:
http://abcnews.go.com/WNT/story?id=206661
"From the ABCNEWS Investigative Unit: Daily Investigative Report
While CIA officials say they have not been able to authenticate the 75-minute tape, an agency spokesman says it "appears to have been produced by al Qaeda's media organization, al Sahab productions." The tape is marked with the same logo and graphics seen on previous videos released by al Qaeda.
The man on the tape is identified only as "Azzam the American." U.S. officials say they had not previously known of the nom de guerre. His face is never fully visible and he makes no reference to where in the United States he might have lived.
"No, my fellow countrymen you are guilty, guilty, guilty, guilty. You are as guilty as Bush and Cheney. You're as guilty as Rumsfeld and Ashcroft and Powell," he says in what he calls his message to America. "After decades of American tyranny and oppression, now it's your turn to die. Allah willing, the streets of America will run red with blood matching drop for drop the blood of America's victims."
Senior administration officials told ABC News tonight that copies of the tape are being provided to all 13 current and former administration figures mentioned by name in the tape, and that the tape is being shown to captured al Qaeda leaders in U.S. custody to see if they can identify the man on the tape.
"A member of al Qaeda who professes to be a U.S. citizen was always coveted and looked for by the al Qaeda," said Jack Cloonan, a former FBI agent who interviewed a number of captured al Qaeda members and is now an ABC News consultant. Cloonan said he believed the tape to be authentic.
Law enforcement officials and linguistic expert Gerald Lampe, deputy director of the National Foreign Language Center at the University of Maryland, believe English was not Azzam's first language. They speculate he may have learned English as a child in a household of non-native speakers."
I think there is better than a 75% chance that there will be another attack on our soil, and I think that is what my nightmare was about. The changes that would occur in this country if there were another terrorist attack on our soil, even during a Kerry administration, would be "right" leaning and enormous, because of the paranoia it would induce.
On Atrios today I said there were globalization forces that want to see the U.S. become something akin to a military state; it would leave us open and vulnerable to manipulation by outside economic forces. More on this later.
#
posted by scorpiorising : 8:54 AM |
Friday, October 29, 2004
Billmon's back, and so is Bin Laden
The spinners are spinning the latest tape from Bin Laden, it's three days until the election, I'm having an outbreak of paranoia like a bad Herpes virus, and Billmon apparently has found the next whiskey bar, because he's back:
http://www.billmon.org/
"If anyone had any doubts about which candidate al-Qaeda prefers in this election, I think you can put them to rest now. This tape -- coming hard on the heels of "Azzam the American" -- is obviously designed to have U.S. voters as obsessively worried about the terrorist threat as possible when they go into the voting booth next Tuesday. Osama, like Bush, understands the electoral value of zapping the deeper reptilian centers of the brain. Call it hypothalamus politics. Or, as one member of the media idiot chorus cheerfully told CNN a few days ago: "Fear works."
In a way, this move is even smarter than an actual terrorist attack on American soil -- which al-Qaeda might not have been able to pull off anyway. A real attack would have been an unpredictable gamble. It might have given Bush a huge boost, but it's at least conceivable it would have had the opposite effect, by underscoring the hollowness of the endlessly repeated Republican claim that our cowboy-in-chief has made us all safer.
Osama's video bomb, on the other hand, is a brilliant example of "virtual" terrorism. It's perfectly designed to keep the media tape loop spinning from now until next Tuesday, with minimal risk of a backlash. It not only wipes the missing explosives story off the map (that is, until they do the same to some unsuspecting Americans) it also allows the GOP to turn every remaining campaign event into a bin Laden hate rally. It is, in short, the definitive October surprise."
I agree with Billmon that the release of this tape is designed to affect the American election, but I'm not sure yet just which way the intended effect, Bush or Kerry? Americans are not the Spanish people; the threat of terrorism is likely to steer Americans towards fascism, not away from it. And yet, whose to say this won't drive Kerry into a more hardline point of view on the world scene, and encourage the growth of fascism within his administration, if he is elected?
I had the worse nightmare last night, and with this event coming on the heels of my dream, I have to admit to being a bit freaked. My dream went like this:
I was with a liberal, politically minded co-worker. We were outside, and the wind began to howl like a hurricane. We both said, "Oh no." A large dark hand emerged from the wind and moved as if to swat me. I went inside where I watched from the window, feeling scared and queasy. On a bookshelf in my home was a helmut with a nazi insignia on it, and a jar of cream, I think facial cream. I thought at some point that I might be called to expose my life for some reason. As I watched from the window, a long limousine drove up and parked outside...a beautiful woman in high heels stepped out of the limosine; I felt she was from the other side, beyond death. She reached into my home and took the facial cream off of the bookshelf and took it with her. It was then I noticed there were dummies in the shape of female heads in her limousine with wigs sitting on them.
My interpretation: fascism will rise in the U.S., and I will be called to go underground, in disguise, to fight it. Fuck. This sucks big donkey dicks.
Billmon didn't "want to go there", but I will, and say the globalization forces are making their presence felt through Bin Laden and are attempting to push this election in a certain direction, only, I'm not sure yet in which direction. Suffice it to say though, that you can just about count on some sort of terrorist attack on our soil in the near future. "They" aren't done yet. "They" are only beginning.
Whose to say what a terrorist attack on our soil would do to a Kerry administration? Nudge him towards fascism as well? Quite possibly. Do I feel a draft?
Kerry has threatened tougher action on the beleaguered city of Falluja. I think he has every intention of continuing this war and possibly expanding it; why wouldn't he crack down on American citizens if he felt it necessary to consolidate his power? I'm remembering an old axiom, or is it a new one: trust no one in power...
Meet the new boss...same as the old boss???
#
posted by scorpiorising : 7:02 PM |
Moveon.org Voter Protection Card
Here is a link to the Moveon.org Voter Protection Card:
http://cdn.moveonpac.org/content/pdfs/ep_card.pdf
There are instructions on this card as to what to do and who to call if you feel you are harassed when you vote.
#
posted by scorpiorising : 3:23 PM |
What to do if challenged at the polls...
Election Protection Hotline: 1-866-OUR-VOTE (1-866-687-8683)
From the comments of
Atrios
today (I'll update the info as it occurs):
If one is challenged at the polls, go immediately to the election judge at the poll - the person who is in charge. If it is the judge who challenges - and in Texas, that is the only person who can directly challenge a voter - then call Election Protection. Tell them what has happened. They will send a lawyer there if it looks like it is necessary.I"ll go over to ElectionProtection and get some phone numbers.Tena
Email
Homepage
10.29.04 - 12:30 pm
#
I suggest information as to how one would conduct oneself if challenged at the polls, and people are responding, above and below quotes from the comments section of Atrios:
.1) In the first instance, comply with whatever the elections authorities request to demonstrate that you are a proper voter -- I think, for the most part, at the polls all you have to do is sign a written affirmation. But, in any case, be as cooperative as practical. You are, after all, in the right.2) In the course of (1), get whatever information you can -- particularly identifying information -- about the intimidator. 3) Notify local media, particularly broadcast media, law enforcement, and anyone you can reach via the blogosphere of the intimidation (Atrios, I hope, will have an election-day semi-open thread for just that purpose) -- get the information out.4) Consult with an attorney to determine if you have any civil remedies available, and what the risks and costs are of pursuing them. Pursue them as fully as you can consistent with the risks and costs you are personally willing to bear.Essentially, in short, do what is necessary to vote, then make sure as many people know about the intimidation as possible, and do everything you can to make sure they don't get away without paying for it.cmdicely
Email
Homepage 10.29.04 - 12:33 pm
#
Ok, Atrios has posted the numbers for Election Protection.Folks, EP04 is our best friend in this situation. The org. has an entire army of lawyers ready to go if one is needed. It has all kinds of knowledgeable people who can help when something goes wrong. It is not going to be possible to mount your own anti-goon squad on the 2d. Just use the tools that are available, thanks to the PAC.Tena
Email
Homepage
10.29.04 - 12:43 pm
#
Election Protection Hotline: 1-866-OUR-VOTE (1-866-687-8683)
#
posted by scorpiorising : 9:47 AM |
Ohio GOP officials confronted by angry voters.
http://www.ohio.com/mld/beaconjournal/10042113.htm?1c
Immigrant responds
Twinsburg resident Errol Horam's registration was challenged twice.
An immigrant from Jamaica, Horam, 55, said he came to the United States because ``it is the greatest democracy on the face of the earth.''
``I am disappointed in the Republican Party,'' Horam said as he left the hearing room.
``I'm really disappointed that they are trampling on people's rights and democracy and depriving them of their right to vote.''
The angry voters had the Republicans on the defensive.
``Why'd you do it?'' one challenged voter shouted out at Calhoun. ``Who the hell are you?'' the man asked.
``What the hell do you care?'' replied Calhoun, an attorney.
After the hearing, Calhoun said he felt the challenges were legitimate.
``I thought there was reason to challenge them based on what was told to me by associates at the Summit County Republican Party on behalf of the Ohio Republican Party,'' he said.
Lisa McCraney of Tallmadge, whose husband RaShawn McCraney's registration was challenged, stepped up to the microphone and took to task those who filed the challenges.
``We work hard, just like you do, trying to make our living, trying to prove ourselves in this world to get to the point where we are 80 years old like you.
``But you signed your name to 200 documents of people you have never met a day in your life, challenging our right to vote.''
She finished talking to the four by telling them they needed to apologize.
Arshinkoff, chairman of the Summit County GOP, pointed to the state party and said Chairman Robert Bennett should be held accountable.
Bennett on Thursday defended the GOP's challenge of voter registrations, saying that efforts by Democrats that registered the likes of Mary Poppins and Dick Tracy to vote warranted it. However, he said GOP attorneys -- other than just Morrison -- should have been at the hearing to represent the four party members who signed the challenges.
``I don't know what happened. I'm still looking into that,'' he said.
Once the board dismissed the challenges, Morrison and Summit County elections Director Bryan Williams led the challengers out of the hearing room and into a back stairwell. Doerler questioned why challenges were dismissed. Morrison, however, advised them against answering questions.
Bennett said the party would stand behind the four and provide them with legal assistance, should they face legal action for signing the challenges.
Probe sought
Pry and elections board member Wayne Jones said after the hearing that they intend to contact the U.S. Justice Department to investigate the challenges.
``You don't mess with somebody's right to vote,'' Jones said. He believes the effort to challenge legitimate voters is proof that Republicans are running scared in Ohio.
Arshinkoff and Hutchinson were obviously angry with the state party.
Arshinkoff compared the proceedings to a ``train wreck'' and said representatives from the Ohio Republican Party should have been at the hearing to defend the lists of challenges that it prepared.
``This was not good,'' he said, adding that he wished the challenges would not have been filed. ``This is like asking somebody who was just told by the dentist that we're going to pull all of your teeth out without novocaine if you want to go through the procedure again,'' Arshinkoff said.
``There was no evidence,'' Hutchinson said of the challenges.
Hutchinson said he didn't know if Horam was a Democrat or a Republican, but he was sure he won't be voting Republican in this election.
Both agreed that a law requiring voters to show photo identification at the polls would be the best way to protect voting.
Lisa A. Abraham can be reached at 330-996-3737 or
labraham@thebeaconjournal.com
#
posted by scorpiorising : 9:36 AM |
GOP caught filming early voters in Florida
I already posted a link to this story before,
from the BBC
, by Greg Palast, but it's worth it to highlight this section:
Private detective

In Jacksonville, to determine if Republicans were using the lists or other means of intimidating voters, we filmed a private detective filming every "early voter" - the majority of whom are black - from behind a vehicle with blacked-out windows.
The private detective claimed not to know who was paying for his all-day services.
On the scene, Democratic Congresswoman Corinne Brown said the surveillance operation was part of a campaign of intimidation tactics used by the Republican Party to intimidate and scare off African American voters, almost all of whom are registered Democrats.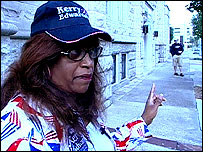 Democratic Congresswoman Corinne Brown watches a private investigator film voters.
#
posted by scorpiorising : 9:28 AM |
Legal Battle for Election has started.
From the
Washington Post
:
GOP Challenging Voter Registrations
Civil Rights Groups Accuse Republicans Of Trying to Disenfranchise Minorities

By Jo Becker
Washington Post Staff Writer
Friday, October 29, 2004; Page A05

Republicans yesterday continued to challenge the validity of tens of thousands of voter registrations in Ohio and other key states in the presidential election while a coalition of civil rights and labor groups sued the GOP, contending the Republican efforts were aimed at removing eligible minority voters from the rolls.

After initially saying he would not contest a Wednesday ruling halting the challenges, Secretary of State J. Kenneth Blackwell (R) worked with other election officials who asked the U.S. Court of Appeals for the 6th Circuit in Cincinnati to allow GOP challenges to 35,000 voters from mostly urban and minority areas to proceed before the election. As of late last night, the court had not ruled.

Also yesterday, Republicans in Wisconsin attempted to challenge the registrations of 5,600 voters in Milwaukee but were turned down in a unanimous decision by the city's bipartisan election board.

The Republican challenges in Ohio, Wisconsin and other battleground states prompted civil rights and labor unions to sue in U.S. District Court in Newark, saying the GOP is violating a consent decree, issued in the 1980s by Judge Dickinson R. Debevoise and still in effect, that prevents the Republicans from starting "ballot security" programs to prevent voter fraud that target minorities.

Judith A. Browne, acting co-director of the Advancement Project, which filed the lawsuit along with the Leadership Conference on Civil Rights, said the Republican "challenges were, and currently are, used to disenfranchise minority voters."

But Republicans denied that they were targeting black voters. Bobby Burchfield, an attorney for the Republican National Committee, told Debevoise that "troubling reports" of fictitious names such as Mary Poppins appearing on Ohio's rolls prompted the challenges.


#
posted by scorpiorising : 8:43 AM |
"I got mine..."
My letter to Lou Dobbs today:
Dobbs,
Your lead-off story yesterday was a reference to a Washington Moonie-owned Times article that Russia made off with the wmds. I guess you didn't listen to your own colleague recently, when he declared: game, set, and match:
Aaron Brown:
BROWN: "And was there anything else at the facility that would have been under IAEA seal?
KAY: Absolutely nothing. It was the HMX,RDX, the two high explosives.
BROWN: OK. Now, I want to take a look at the barrels here for a second and you can tell me what they tell you. They obviously to us just show us a bunch of barrels. You'll see it somewhat differently.
KAY: Well, it's interesting. There were three foreign suppliers to Iraq of this explosive in the 1980s. One of them used barrels like this and inside the barrel is a bag. HMX is in powdered form because you actually use it to shape a spherical lens that is used to create the triggering device for nuclear weapons.
And, particularly on the videotape,which is actually better than the still photos, as the soldier dips into it that's either HMX or RDX. I don't know of anything else in al Qa Qaa that was in that form.
BROWN: Let me ask you then, David, the question I asked Jamie. In regard to the dispute about whether that stuff was there when the Americans arrived, is it game, set, match? Is that part of the argument now over?
KAY: Well, at least with regard to this one bunker and the film shows one seal, one bunker, one group of soldiers going through and there were others there that were sealed, with this one, I think it is game, set and match."
Or Perhaps, MR. Dobbs, you are more concerned with what will likely be your repealed tax cut. In that case, you ought to read another of your colleagues, and get some perspective:
From CNN Money, Kathleen Hays:
"
Beyond that, there are some of us who have secure, good-paying jobs, and money in the bank, houses that have skyrocketed in value, maybe even portfolios that are churning out a decent return. For us, the economy may not be roaring but it's doing well enough for us to feel good and to feel good about the guy who's been the White House the past four years.
Then there are those of us who have been laid off, or seen our colleagues laid off and unable to find new jobs with salaries close to what they made before -- if they can find jobs at all.
The pinch of rising health care costs, and higher gas prices makes it tougher to save money and get ahead. And oh, by the way, we may have aging parents to take care of and kids to put through college. This group isn't sure Bush is on the right track."

Nuff said.
#
posted by scorpiorising : 7:41 AM |
Thursday, October 28, 2004
reasoning and liberty
The stink of death that is Iraq right now is heavy and fouling the already polluted atmosphere of American politics.
100,000 Iraqi civilians dead and counting
. Republicans are belching their defenses...defense of actions in Iraq that allowed the looting of sites like Al Qaa Qa. Democrats are circling like hyenas, drawn to the smell of frightened exposure. The democrats sense victory and are hyper/nervously celebrating before all the eggs are hatched, and taking spirited jabs into the republican body on forums such as Eschaton and Daily Kos. Dissent, criticism of Kerry policies is not, ironically enough, to be tolerated there, while republicans are berated for their daily violation of life, liberty and the pursuit of happiness.
I wonder though, where was Kerry and most of our other illustrious congress people when the war was being planned, and then conducted in such a disastrous manner? And I'm sitting here post-red moon eclipse wondering what exactly will be won, election day.
I have stated that I do believe a certain degree of reason will return to the political dialogue. A reasoned people do not measure arguement by its pro or anti American tone. A reasoned people do not casually and carelessly throw about the word "treason", to silence those who would criticize the actions of our government. Kerry appears intelligent and possessing of the ability to reason; however, as I said earlier, that trait does not insure that all of his decisions will be reasonable. I suspect some Americans may turn the treason accusations on their head, and come to view some of the actions of the Bush administration, particularly regarding the war, as possibly treasonous. Would it be no less treasonous then to expand this war, though it be the "wrong war", and ask more Americans and more Iraqis to die...for what?
Will religion as influence, and the danger of war for the sake of scripture, recede...for now? Israel will always be the wild card in this global theater.
Kerry is becoming the new man of the hour to idolize and for a while at least, he will do no wrong. Interesting that the process of American idol also contained the specter of the disenfranchisement of minority voters.
As voters, are we reasonably discussing the immense problems of environment, war and poverty, and just how, as a species capable of reasoning, we are going to deal with these problems?
To a great degree, I feel we have forfeited the national dialogue to sensationalism that masks just how the capitalist system is stacked in the favor of the monied elite. It is the mindset of criticism=treason that has infested our dialogue, and it is the cynicism of "what's the use, might as well eat the bread and watch the circus" that fuels our apathy. The election of Kerry is just the tip of the iceberg to recovery, or it may not have any relation. And going after Halliburton is one thing, but to dismantle the system that has allowed Halliburtons throughout our history, is quite another. I think it will take nothing short of dismantling, and rebuilding.
#
posted by scorpiorising : 7:05 PM |
More collage by Nicholas Lampert: locust tank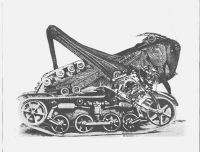 #
posted by scorpiorising : 2:50 PM |
soldier for oil, by Nicholas Lampert
#
posted by scorpiorising : 2:44 PM |
Wednesday, October 27, 2004
Perfect red-balled bliss in the sky..
You know, after such a day, this is the perfect ending, this red-balled bliss in the sky, this moon hidden by the sun, this portent of change to come. Love life uncertain, war, animals ducking for cover and plants on the wane, but it might come down to a night, a moment of perfect bliss to set it alright in motion again. As long as there is a breath to scrape out of this dark-red moon illumined atmosphere...
#
posted by scorpiorising : 7:27 PM |
Florida shenanigans
Someone commenting on Atrios tonight posted this link to a BBC story on potential republican disruption of voting there:
http://news.bbc.co.uk/2/hi/programmes/newsnight/3956129.stm
New Florida vote scandal feared
By Greg Palast
Reporting for Newsnight
A secret document obtained from inside Bush campaign headquarters in Florida suggests a plan - possibly in violation of US law - to disrupt voting in the state's African-American voting districts, a BBC Newsnight investigation reveals.
Election supervisor Ion Sancho believes some voters are being intimidated
Two e-mails, prepared for the executive director of the Bush campaign in Florida and the campaign's national research director in Washington DC, contain a 15-page so-called "caging list".
It lists 1,886 names and addresses of voters in predominantly black and traditionally Democrat areas of Jacksonville, Florida.
An elections supervisor in Tallahassee, when shown the list, told Newsnight: "The only possible reason why they would keep such a thing is to challenge voters on election day."
Ion Sancho, a Democrat, noted that Florida law allows political party operatives inside polling stations to stop voters from obtaining a ballot.
Mass challenges
They may then only vote "provisionally" after signing an affidavit attesting to their legal voting status.
Mass challenges have never occurred in Florida. Indeed, says Mr Sancho, not one challenge has been made to a voter "in the 16 years I've been supervisor of elections."
"Quite frankly, this process can be used to slow down the voting process and cause chaos on election day; and discourage voters from voting."
Sancho calls it "intimidation." And it may be illegal.
A Republican spokeswoman did not deny that voters would be challenged at polling stations
In Washington, well-known civil rights attorney, Ralph Neas, noted that US federal law prohibits targeting challenges to voters, even if there is a basis for the challenge, if race is a factor in targeting the voters.
The list of Jacksonville voters covers an area with a majority of black residents.
When asked by Newsnight for an explanation of the list, Republican spokespersons claim the list merely records returned mail from either fundraising solicitations or returned letters sent to newly registered voters to verify their addresses for purposes of mailing campaign literature.
Republican state campaign spokeswoman Mindy Tucker Fletcher stated the list was not put together "in order to create" a challenge list, but refused to say it would not be used in that manner.
Rather, she did acknowledge that the party's poll workers will be instructed to challenge voters, "Where it's stated in the law."
There was no explanation as to why such clerical matters would be sent to top officials of the Bush campaign in Florida and Washington.
Private detective
In Jacksonville, to determine if Republicans were using the lists or other means of intimidating voters, we filmed a private detective filming every "early voter" - the majority of whom are black - from behind a vehicle with blacked-out windows.
The private detective claimed not to know who was paying for his all-day services.
On the scene, Democratic Congresswoman Corinne Brown said the surveillance operation was part of a campaign of intimidation tactics used by the Republican Party to intimidate and scare off African American voters, almost all of whom are registered Democrats.
------------------------------------------------------------------------
#
posted by scorpiorising : 7:04 PM |
Bleary under a lunar eclipse.
I'm beyond tired into wired from lack of sleep, and marveling at the cross-current of events, that I would fight for myself and my co-workers today and secure payment from a movie company filming in our coffeehouse. That Mosh would be the number one video on MTV just days before the election, and wondering how Kerry will deal with youthful rage if he expands the war. Watched a goddamned silly-ass reporter from Rolling Stone interviewed on Olbermann tonight take on Eminem's Mosh, and wanted to puke at her trivialization and cynical reaction to the anger over the war and the growing feeling, I am certain, among young people who enlisted that they are being used...with little concern for their well-being. These over-paid and over-priced media types, the type that came into our coffeeshop this morning and proceeded to take it over, with little concern for our well-being and reimbursement for our effort, I don't give a fuck if they are from Hollywood, I told one guy, we are due reimbursement.
The puking way members of the human race treat each other when they've got their piece, don't wanna share no part of that piece; just now a military jet flew really low over our neighborhood. Ominous. I'm tired. Yes, I am glad Kerry will probably win this election. But am I hopeful the activism will continue in opposition to the war? Not much. Yet.
#
posted by scorpiorising : 6:08 PM |
The Highway of Death
Lest we forget, John Kerry voted against this war, the first Gulf War. The question remains, how will he deal with Iraq? Remember the
Highway of Death
, America's war crimes in the First Gulf War. We have become so arrogant as a "superpower" that we think ourselves above international law. This did not start with Bush:
I want to give testimony on what are called the "highways of death." These are the two Kuwaiti roadways, littered with remains of 2,000 mangled Iraqi military vehicles, and the charred and dismembered bodies of tens of thousands of Iraqi soldiers, who were withdrawing from Kuwait on February 26th and 27th 1991 in compliance with UN resolutions.
U.S. planes trapped the long convoys by disabling vehicles in the front, and at the rear, and then pounded the resulting traffic jams for hours. "It was like shooting fish in a barrel," said one U.S. pilot. The horror is still there to see.

On the inland highway to Basra is mile after mile of burned, smashed, shattered vehicles of every description - tanks, armored cars, trucks, autos, fire trucks, according to the March 18, 1991, Time magazine. On the sixty miles of coastal highway, Iraqi military units sit in gruesome repose, scorched skeletons of vehicles and men alike, black and awful under the sun, says the Los Angeles Times of March 11, 1991. While 450 people survived the inland road bombing to surrender, this was not the case with the 60 miles of the coastal road. There for 60 miles every vehicle was strafed or bombed, every windshield is shattered, every tank is burned, every truck is riddled with shell fragments. No survivors are known or likely. The cabs of trucks were bombed so much that they were pushed into the ground, and it's impossible to see if they contain drivers or not. Windshields were melted away, and huge tanks were reduced to shrapnel.

"Even in Vietnam I didn't see anything like this. It's pathetic," said Major Bob Nugent, an Army intelligence officer. This one-sided carnage, this racist mass murder of Arab people, occurred while White House spokesman Marlin Fitzwater promised that the U.S. and its coalition partners would not attack Iraqi forces leaving Kuwait. This is surely one of the most heinous war crimes in contemporary history.
#
posted by scorpiorising : 2:23 PM |
Tuesday, October 26, 2004
Riverbend, with some reticence, endorses Kerry
Riverbend, of
Baghdad Burning
, in a curiously ambivalent, almost schizophrenic post, acknowledges what I will call the banking and globalization forces behind the electing of a president, and American national politics in general, and then goes on to endorse Kerry. I hope her statement, "It cannot get much worse", isn't actually an inadvertent curse of some kind.
It sometimes seems, from this part of the world, that democracy in America revolves around the presidential elections- not the major decisions. War and peace in America are in the average American's hands about as much as they are in mine. Sure, you can vote for this man or that one, but in the end, there's something bigger, more intricate and quite sinister behind the decisions. Like in that board game Monopoly, you can choose the game pieces- the little shoe, the car, the top hat… but you can't choose the way the game is played. The faces change but the intentions and the policy remain the same...
...Who am I hoping will win? Definitely Kerry. There's no question about it. I want Bush out of the White House at all costs. (And yes- who is *in* the White House *is* my business- Americans, you made it my business when you occupied my country last year) I'm too realistic to expect drastic change or anything phenomenal, but I don't want Bush reelected because his reelection (or shall I call it his 'reassignment') will condone the wars on Afghanistan and Iraq. It will say that this catastrophe in Iraq was worth its price in American and Iraqi lives. His reassignment to the White House will sanction all the bloodshed and terror we've been living for the last year and a half.
Sounds like she's been feeling something similar to my own ambivalence, and yes, schizophrenic reactions to the American political scene. Yea, rah rah for kerry, yah, but oh my god he's going to expand the war in Iraq and finish off Falluja. Yea but his election will mean the return of reason into the national political dialogue, okay, but that doesn't mean that all of Kerry's decisions will be reasonable, but maybe the sheer force of his good will would end the war without any more bloodshed. I have aquaintances who believe this. The American political system, as it is now, encourages the election of idols whose responsibility it becomes to mute criticism of catastrophic decisions.
#
posted by scorpiorising : 9:06 AM |
Lest we forget...
I'm as glad as any democrat to see Clinton healthy and campaigning. However...it was interesting to hear Kerry yesterday in Philly declare Clinton a champion for the middle class, because he certainly
wasn't one for the poor
:
With a stroke of his pen, Bill Clinton dismantled the New Deal and replaced it with a Raw Deal for poor women and children," NOW President
Patricia Ireland
said Aug. 22, the day President Clinton signed the new
welfare bill
into law.
"Millions more will swell the ranks of the poor and hungry as a result of this bill," she said. "It is a repeal of welfare -- not a reform."
Ireland joined hundreds of activists who rallied in front of the White House to protest the president's action on the bill. NOW and its allies vowed to continue the "
Hungry for Justice
" campaign to force President Clinton and Congress to eliminate the most harmful requirements from the bill and restore some of the safety net for the poor.
On July 31, when President Clinton announced he would sign the welfare repeal bill, NOW launched the "Hungry for Justice" campaign with a huge demonstration in front of the White House. Ireland, along with the other officers and many NOW staff members and activists, began a fast to protest Clinton's action and "to enhance our understanding and commitment to ending poverty," Ireland said.
Now I remember the 90's as a time when I saw my own earnings creep upwards, and watched the enormous wealth that was being accrued through the stockmarket. I remember feeling that this wealth was not real, intuitively, though I understood little as to why the bubble was occuring. I remember talking to friends who were investing for the first time, and earning, only to see it all vanish a few years later. Clinton did us all a favor by eliminating the deficit. That much he understood. I think he caved into the pressures from the right when he dismantled the welfare state. Just my opinion. When will Kerry cave and how? In my view, Kerry is already caving to globalization pressures by promising to expand the war in Iraq. Too much moolah and investment opportunities to be lost if we simply pulled out. Sheesh...when will guys learn to pull out...
#
posted by scorpiorising : 8:34 AM |
A link to Eminem video.
Here is a link to the Eminem video Mosh, which apparently isn't getting air time on MTV. Eminem issues a challenge to Senator Kerry at the end of the video:
[Eminem speaking angrily]And as we proceed, to mosh through this desert storm, in these closing statements, if they should argue, let us beg to differ, as we set aside our differences, and assemble our own army, to disarm this weapon of mass destruction that we call our president, for the present, and mosh for the future of our next generation, to speak and be heard, Mr. President, Mr. Senator[End] '
http://boss.streamos.com/qtime/interscope/eminem/encore/video/mosh-rev/300_mosh-rev.mov
#
posted by scorpiorising : 7:18 AM |
Bring the troops home.
Will Eminem rage against Kerry if he doesn't bring out troops home? I wonder if everyone will quietly go back to sleep after Kerry is elected? From the song
Mosh
, Eminem's anti-war mantra:
To the people up top, on the side and the middle,
Come together, let's all bomb and swamp just a little
Just let it gradually build, from the front to the back
All you can see is a sea of people, some white and some black
Don't matter what color, all that matters is we gathered together
To celebrate for the same cause, no matter the weather
If it rains let it rain, yea the wetter the better
They ain't gonna stop us, they can't, we're stronger now more then ever,
They tell us no we say yea, they tell us stop we say go,
Rebel with a rebel yell, raise hell we gonna let em know
Stomp, push up, mush, fuck Bush,
until they bring our troops home comeon just . . .
#
posted by scorpiorising : 6:32 AM |
The Dutch have found a way.
Note the use of smiles
, and the striving for respect for the natives. "We are guests here", one Dutch peacekeeper said.
Instead of armored vehicles, the Dutch drive vehicles that leave them exposed to the people around them. To encourage interaction with local residents, they go bare-headed and are forbidden to wear mirror sunglasses. Making soldiers accessible and vulnerable to their surroundings increases their security, they contend. Making them inaccessible decreases it.
"You would lose contact with the people," said Lt. Col. Kees Matthijssen, the commander of the Dutch force in Iraq. "In fact, the support and the consent of the people is a form of protection. If you have good contact with the people, if it's easy to talk to the people, people always give you some information. You know what's in their minds, what they're thinking, what's worrying them.
#
posted by scorpiorising : 6:25 AM |
A Canadian activist is turned away.
From
MetroTimes in Detroit
, this account of the questioning, and turning away, of John Clark, anti-globalization activist, at the border:
In terms of the border itself," Clarke tells Metro Times, "the essence of globalization is to remove barriers so that corporations are allowed to ship goods and services from one country to another with great ease, and to allow those same corporations to move jobs and livelihoods across borders with impunity."
He says his detention and interrogation ironically served to highlight that, "When it comes to people who want to cross the border to hold discussions about what is occurring — or people who want to try and cross the border to organize protests against what is happening — barriers to prevent them from doing that are being put up."

"One of the problems we're facing," he adds, "is that on both sides of the border people are seeing the criminalization of political activity. Then those charges are used against them, creating pariahs when they attempt to move from one country to another."
#
posted by scorpiorising : 6:11 AM |
Halliburton probed by Pentagon
If the title of this post isn't enough to make you puke, then the thought of the Pentagon investigating its own corruption should finish the job for you.
On page 23 of the Washington Post
(seems the fleecing of the American tax payer still cannot get top billing) there is the specter of the Pentagon investigating how it doled out the bucks to Kellog Brown and Root, a subsidiary of Halliburton. Remember this name: Bunnatine Greenhouse, whistleblower and employee of the Army Corps of Engineers.
What will be astounding about this situation is that Pentagon officials will actually pretend they didn' t know we were being fleeced. Even I knew we were being fleeced. Let's see if Kerry will have the balls to bring some of them to justice, and get some of our money back. I want my money back.
#
posted by scorpiorising : 5:51 AM |
Inspection schedule for Al Qa Qaa
Inspection schedule for UN monitors for the Al Qa Qaa site, and others, can be found here:
http://www.vertic.org/onlinedatabase/unmovic/dsp_Site.cfm?siteID=9
#
posted by scorpiorising : 5:42 AM |
Monday, October 25, 2004
This news is nothing new.
Looting of weapons caches in Iraq? Nothing new. Sounds like it was common knowledge:
http://www.janes.com/security/international_security/news/jid/jid030529_1_n.shtml
Throughout May, the International Atomic Energy Agency (IAEA) has expressed mounting concern at the outbreak of looting that has been taking place at Iraq's abandoned nuclear sites - which number around 1,000 in total. JID has commissioned a leading British nuclear analyst to assess the security risk posed by the missing material and the golden opportunities the chaos in Iraq may have presented to international terrorists. According to eyewitness reports as many as 400 looters a day have been ransacking the Al-Tuwaitha complex south of Baghdad, regarded as the main site for Iraq's former nuclear weapons programme and covering an area of 120 acres. The crowd got in by simply cutting the surrounding barbed-wire fence in the absence of security patrols
.
From Knight-Ridder news:
http://www.centredaily.com/mld/centredaily/news/world/9849036.htm
October 2, 2004
The insurgents probably are using weapons and ammunition looted from the nearby Qa-Qaa complex, a 3-mile by 3-mile weapons-storage facility about 25 miles southwest of Baghdad, said Maj. Brian Neil, operations officer for the 2nd Battalion, 2nd Marine Regiment, which initially patrolled the area.
The facility was bombed during last year's invasion and then left unguarded, Neil said. "There's definitely no shortage of weapons around here," he said.
#
posted by scorpiorising : 8:33 AM |
Carlyl tryin' to Cash IN.
First of all, the absurdity of Iraq paying any debt to any nation, at a time when they've been bombed nearly back to the stone age, is beyond reasonable comprehension.
Jual Cole
correctly highlighted these paragraphs from the
Naomi Klein article
I posted a few days ago, on James Baker:
http://www.juancole.com/2004_10_01_juancole_archive.html#109841783717336801
President Bush's special envoy, James Baker, who has been trying to persuade the world to forgive Iraq's crushing debts, is simultaneously working for a commercial concern that is trying to recover money from Iraq, according to confidential documents.Mr Baker's Carlyle Group is in a consortium secretly proposing to try to collect $27bn (£15bn) on behalf of Kuwait, one of Iraq's biggest creditors, by using high-level political influence. It claims Mr Baker will not benefit personally, but the consortium could make millions in fees, retainers and commission as a result.Other countries, including Britain, have been urged by Mr Baker to relieve the new Iraq regime of its $200bn debt burden. Iraq owes Britain approximately $1bn.One international lawyer described the consortium's scheme as "influence peddling of the crassest kind".Jerome Levinson, an expert on political and corporate ethics at American University in Washington, told the Guardian: "The consortium is saying to the Kuwaiti government, 'Through us you have the only chance to realize a substantial part of the debt. Why? Because of who we are and who we know'." '
#
posted by scorpiorising : 7:42 AM |
Joe Lockhart's response to missing Iraq weapons cache.
Washington, DC – Kerry-Edwards Senior Advisor Joe Lockhart issued the following statement on reports of missing explosives in Iraq:

"Today, the Bush administration must answer for what may be the most grave and catastrophic mistake in a tragic series of blunders in Iraq. How did they fail to secure nearly 380 tons of known, deadly explosives despite clear warnings from the International Atomic Energy Agency to do so? And why was this information unearthed by reporters -- and was it covered up by our national security officials?

"These explosives can be used to blow up airplanes, level buildings, attack our troops and detonate nuclear weapons. The Bush administration knew where this stockpile was, but took no action to secure the site. They were urgently and specifically informed that terrorists could be helping themselves to the most dangerous explosives bonanza in history, but nothing was done to prevent it from happening.

"This material was monitored and controlled by UN inspectors before the invasion of Iraq. Thanks to the stunning incompetence of the Bush administration, we now have no idea where it is.

"We need to know what the administration knew about this and when. We need to know why they failed to safeguard these explosives and keep them out of the hands of our enemies. The National Security Advisor should be at her desk in Washington tomorrow to work this problem and answer these questions, instead of giving speeches in battleground states."
From CNN today:
http://www.cnn.com/2004/WORLD/meast/10/25/iraq.explosives/index.html
IAEA: Tons of Iraq explosives missing
Monday, October 25, 2004 Posted: 8:53 AM EDT (1253 GMT)
VIENNA, Austria (CNN) -- Some 380 tons of explosives, powerful enough to be used to detonate nuclear warheads, are missing from a former Iraqi military facility that was supposed to be under American control, the U.N.'s nuclear watchdog says.
Melissa Fleming, spokeswoman for the International Atomic Energy Agency (IAEA), told CNN the Iraqi interim government reported several days ago that the explosives were missing from the Al Qaqaa complex, south of Baghdad.
The explosives -- considered powerful enough to demolish buildings or detonate nuclear warheads -- were under IAEA control until the U.S.-led invasion of Iraq in March 2003. IAEA workers left the country before the fighting began.
"Our immediate concern is that if the explosives did fall into the wrong hands they could be used to commit terrorist acts and some of the bombings that we've seen," Fleming said. She said the IAEA doesn't know if some of the explosives may already have been used.
A European diplomat told The New York Times that Mohamed ElBaradei, director general of the IAEA, is "extremely concerned" about the potentially "devastating consequences" of the vanished stockpile.
"The immediate danger" of the lost stockpiles is its potential use by insurgents to make small, but powerful, explosive devices, an expert said. The expert said the explosives could be easily transported across the Middle East.
According to The Times, the stockpiles missing from Al Qaqaa are the strongest and fastest in common use by militaries around the globe.
The Iraqi letter to IAEA identified the vanished explosives as containing 194.7 metric tons of HMX, or "high melting point explosive," 141.2 metric tons of RDX, or "rapid detonation explosive," among other designations, and 5.8 metric tons of PETN, or "pentaerythritol tetranitrate."
Fleming said the IAEA, whose mission is to keep track of everything with potential nuclear weapons applications, had been monitoring about 100 sites in Iraq, but there were only a few of special concern, including Al Qaqaa.
"The concern is that other sites that have items that are potentially dangerous have gone missing," Fleming added.
Democratic presidential candidate John Kerry decried the missing explosives, after seeing The New York Times report in Monday's editions.
In the statement, Kerry senior adviser Joe Lockhart said: "The Bush administration must answer for what may be the most grave and catastrophic mistake in a tragic series of blunders in Iraq.
"How did they fail to secure nearly 380 tons of known, deadly explosives despite clear warnings from the International Atomic Energy Agency to do so? And why was this information unearthed by reporters -- and was it covered up by our national security officials?
"These explosives can be used to blow up airplanes, level buildings, attack our troops and detonate nuclear weapons. The Bush administration knew where this stockpile was, but took no action to secure the site."
Kerry criticized Bush for his "stunning incompetence."
There was no response from the Bush administration on the missing explosives.
#
posted by scorpiorising : 6:40 AM |
Shooting ourselves in the foot.
Apparently, our men and women, as well as Iraqis, are being killed in Iraq with explosives that we failed to secure after the invasion:
http://www.nytimes.com/2004/10/25/international/middleeast/25bomb.html?oref=login&hp&ex=1098676800&en=61cf6e1aa29b7871&ei=5094&partner=homepage
TRACKING THE WEAPONS
Huge Cache of Explosives Vanished From Site in IraqBy JAMES GLANZ, WILLIAM J. BROAD and DAVID E. SANGERPublished: October 25, 2004

This article was reported and written by James Glanz, William J. Broad and David E. Sanger.
BAGHDAD, Iraq, Oct. 24 - The Iraqi interim government has warned the United States and international nuclear inspectors that nearly 380 tons of powerful conventional explosives - used to demolish buildings, make missile warheads and detonate nuclear weapons - are missing from one of Iraq's most sensitive former military installations.
The huge facility, called Al Qaqaa, was supposed to be under American military control but is now a no man's land, still picked over by looters as recently as Sunday. United Nations weapons inspectors had monitored the explosives for many years, but White House and Pentagon officials acknowledge that the explosives vanished sometime after the American-led invasion last year.
The White House said President Bush's national security adviser, Condoleezza Rice, was informed within the past month that the explosives were missing. It is unclear whether President Bush was informed. American officials have never publicly announced the disappearance, but beginning last week they answered questions about it posed by The New York Times and the CBS News program "60 Minutes."
Administration officials said Sunday that the Iraq Survey Group, the C.I.A. task force that searched for unconventional weapons, has been ordered to investigate the disappearance of the explosives.
American weapons experts say their immediate concern is that the explosives could be used in major bombing attacks against American or Iraqi forces: the explosives, mainly HMX and RDX, could produce bombs strong enough to shatter airplanes or tear apart buildings.
The bomb that brought down Pan Am Flight 103 over Lockerbie, Scotland, in 1988 used less than a pound of the same type of material, and larger amounts were apparently used in the bombing of a housing complex in November 2003 in Riyadh, Saudi Arabia, and the blasts in a Moscow apartment complex in September 1999 that killed nearly 300 people.
The explosives could also be used to trigger a nuclear weapon, which was why international nuclear inspectors had kept a watch on the material, and even sealed and locked some of it. The other components of an atom bomb - the design and the radioactive fuel - are more difficult to obtain.
"This is a high explosives risk, but not necessarily a proliferation risk," one senior Bush administration official said.
The International Atomic Energy Agency publicly warned about the danger of these explosives before the war, and after the invasion it specifically told United States officials about the need to keep the explosives secured, European diplomats said in interviews last week. Administration officials say they cannot explain why the explosives were not safeguarded, beyond the fact that the occupation force was overwhelmed by the amount of munitions they found throughout the country.
A Pentagon spokesman, Lawrence Di Rita, said Sunday evening that Saddam Hussein's government "stored weapons in mosques, schools, hospitals and countless other locations," and that the allied forces "have discovered and destroyed perhaps thousands of tons of ordnance of all types." A senior military official noted that HMX and RDX were "available around the world" and not on the nuclear nonproliferation list, even though they are used in the nuclear warheads of many nations.
The Qaqaa facility, about 30 miles south of Baghdad, was well known to American intelligence officials: Mr. Hussein made conventional warheads at the site, and the I.A.E.A. dismantled parts of his nuclear program there in the early 1990's after the Persian Gulf war in 1991. In the prelude to the 2003 invasion, Mr. Bush cited a number of other "dual use" items - including tubes that the administration contended could be converted to use for the nuclear program - as a justification for invading Iraq.
After the invasion, when widespread looting began in Iraq, the international weapons experts grew concerned that the Qaqaa stockpile could fall into unfriendly hands. In May, an internal I.A.E.A. memorandum warned that terrorists might be helping "themselves to the greatest explosives bonanza in history."
#
posted by scorpiorising : 6:15 AM |