Saturday, August 09, 2003
CAFTA: Just say no!
Recent
anti-CAFTA
protesters,
in front off
Gallier Hall in New Orleans.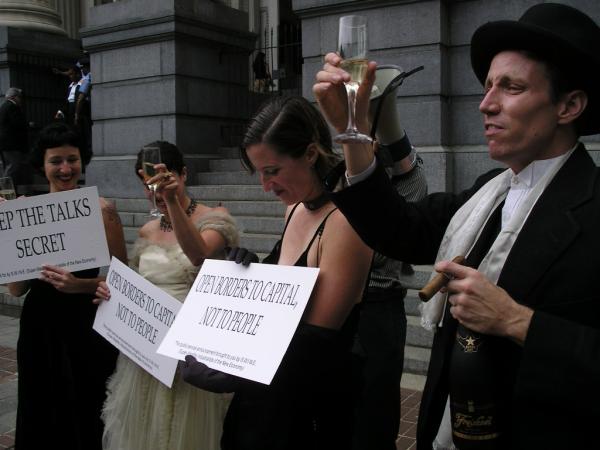 #
posted by scorpiorising : 7:47 PM |
Irangate?
Unenviable Situation
links to an article in
Newsday
of a secret meeting between
Pentagon
officials and an arms dealer in the
Iran-contra
scandal. This meeting was unauthorized by the
Whitehouse
(we hope):
Washington - Pentagon hardliners pressing for regime change in Iran have held secret and unauthorized meetings in Paris with a controversial arms dealer who was a major figure in the Iran-contra scandal, according to administration officials.

The officials said at least two Pentagon officials working for Undersecretary of Defense for Policy Douglas Feith have held "several" meetings with Manucher Ghorbanifar, the Iranian middleman in U.S. arms-for-hostage shipments to Iran in the mid-1980s.

The administration officials who disclosed the secret meetings to Newsday said the talks with Ghorbanifar were not authorized by the White House and appeared to be aimed at undercutting current sensitive back channel negotiations with the Iranian regime.

"They [the Pentagon officials] were talking to him [Ghorbanifar] about stuff which they weren't officially authorized to do," said a senior administration official. "It was only accidentally that certain parts of our government learned about it."

The official would not identify those "parts" of the government, but a former intelligence official confirmed they are the State Department, the CIA and the White House, itself.

The senior official and another administration source who confirmed that the meetings had taken place said that the ultimate policy objective of Feith and a group of neo-conservatives civilians inside the Pentagon is regime change in Iran.

This second official said, "United States policy officially is not regime change, overtly or covertly," but to engage Iranian officials in dialogue over contentious issues, such as Iran's nuclear weapons program, and to press the regime to extradite al-Qaida operatives.

He said that the immediate objective of the Pentagon hardliners appears to be to "antagonize Iran so that they get frustrated and then by their reactions harden U.S. policy against them."

He confirmed that Secretary of State Colin Powell complained directly to Defense Secretary Donald Rumsfeld several days ago about Feith's policy shop conducting missions that countered U.S. policy.
#
posted by scorpiorising : 11:34 AM |
Everything's for sale, including Iraq.
So the
Bush
administration believes that privatizing
Iraq
is the "answer". It looks as though they are headed into another minefield. Privatization means higher prices, and decisions made not for the good of the people, but for the maximization of profits.
Thomas C. Foley
, has been appointed by
Bush
to help "resucitate the private sector" of the Iraqi economy. Translation: privatize.
Foley
is a fund raiser for
Bush
,
to the tune of $100,000
:
Foley is chairman and founder of the NTC Group, a private equity investment company. He was chairman of Bush's Connecticut campaign finance committee in 2000, after raising more than $100,000 for his college friend.
I suppose $100,000 thou is small change compared to the
$46 million he's raised so far.
Now is the time to
post a link to an article by Naomi Klein
, on the U.S.'s destruction and devastation of Iraq's public sector, just in time for privatization:
Downsizing in Disguise
Why is Paul Bremer Hacking Away So Viciously at Iraq's Public Sector?

by Naomi Klein

The streets of Baghdad are a swamp of crime and uncollected garbage. Battered local businesses are going bankrupt, unable to compete with cheap imports. Unemployment is soaring and thousands of laid-off state workers are protesting in the streets.

In other words, Iraq looks like every other country that has undergone rapid-fire "structural adjustments" prescribed by Washington, from Russia's infamous "shock therapy" in the early 1990s to Argentina's disastrous "surgery without anesthetic." Except that Iraq's "reconstruction" makes those wrenching reforms look like spa treatments.

Paul Bremer, the US-appointed governor of Iraq, has already proved something of a flop in the democracy department in his few weeks there, nixing plans for Iraqis to select their own interim government in favor of his own handpicked team of advisers. But Bremer has proved to have something of a gift when it comes to rolling out the red carpet for US multinationals.

For a few weeks Bremer has been hacking away at Iraq's public sector like former Sunbeam exec "Chainsaw" Al Dunlap in a flak jacket. On May 16 Bremer banned up to 30,000 senior Baath Party officials from government jobs. A week later, he dissolved the army and the information ministry, putting more than 400,000 Iraqis out of work without pensions or re-employment programs.

Of course, if Saddam Hussein's henchmen and propagandists held on to power in Iraq it would be a human rights disaster. "De-Baathification," as the purging of party officials has come to be called, may be the only way to prevent a comeback by Saddam's crew--and the only silver lining of George Bush's illegal war.

But Bremer has gone far beyond purging powerful Baath loyalists and moved into a full-scale assault on the state itself. Doctors who joined the party as children and have no love for Saddam face dismissal, while low-level civil servants with no ties to the party have been fired en masse. Nuha Najeeb, who ran a Baghdad printing house, told Reuters, "I...had nothing to do with Saddam's media, so why am I sacked?"

As the Bush Administration becomes increasingly open about its plans to privatize Iraq's state industries and parts of the government, Bremer's de-Baathification takes on new meaning. Is he working only to get rid of Baath Party members, or is he also working to shrink the public sector as a whole so that hospitals, schools and even the army are primed for privatization by US firms? Just as reconstruction is the guise for privatization, de-Baathification looks a lot like disguised downsizing.


#
posted by scorpiorising : 11:18 AM |
Everything's for sale, including Iraq.
They say that financial reports tell the unvarnished truth, I suppose, for the sake of maximizing profits. Here is the Financial Times.com
#
posted by scorpiorising : 11:05 AM |
Friday, August 08, 2003
This guy is busier than most.
Go read
Busy, Busy, Busy
, for a good dose of tragicomedy:
Shorter Condoleezza Rice:
Transforming the Middle East:

We attacked Iraq without provocation in order to transform it into a democracy and so enhance world peace, as countries with elected leaders do not attack other countries without provocation.
Shorter Tom Friedman:
Shaking Up the Neighbors:

Some Arabs just don't appreciate the free self-governing democracy that we are currently in the process of imposing upon them at gunpoint.
Shorter Paul Wolfowitz:
On Meet The Press:

The invasion of Iraq was integral to our war on terrorism because the 5,000 American soldiers protecting Saudi Arabia were a magnet for terrorists, and we've now improved the situation by exposing 150,000 troops to guerilla attacks in Iraq instead.
#
posted by scorpiorising : 12:11 PM |
Fred Barnes and deception.
It was easy, just too easy to discount
Mr. Fred Barnes'
statement from
Brit Hume's
Special Repot
on
Fox
news channel...well, you read the email I sent him. I happened to catch that little snibbit of debate, and then
atrios
wrote about it this morning. I wish I could get rid of the sarcasm, but I can't help it. It stems from carefully controlled anger and rage over the looting of this country, and the looting of Iraq:
Mr. Barnes,

I saw you last night debating on Fox news channel. Juan Williams defended Al Gore's speech alleging intelligence hype and deception by the administration, specifically the ties the administration alleged between Iraq and Al Queda. You stated that President Bush has been saying "the opposite, the opposite".

I'm not sure what planet you are living on, or perhaps it is an alternative universe you are living in, much like, apparently, the home of the myth of the "liberal media" .

For your reference, these quotes and articles as to what Bush really said about the Al Queda and Saddam connection:
From:
http://www.latimes.com/la-fg-noqaeda4nov04,0,4538810.story
On Friday, Bush specifically linked Hussein to the terrorist network. "We know he's got ties with Al Qaeda," Bush said during an election rally in New Hampshire. "A nightmare scenario, of course, is that he becomes the arsenal for a terrorist network, where they could attack America and he'd leave no fingerprints behind. He is a problem."
From:
http://news.bbc.co.uk/1/hi/world/middle_east/2705491.stm
In his State of the Union address on Tuesday, US President George W Bush said Iraq had links to terrorist groups, including al-Qaeda, and might supply weapons of mass destruction to militants.
From:
http://www.latimes.com/news/nationworld/world/la-fg-intel30jan30,0,6143421.story?coll=la-home-headlines
Powell said Wednesday that documenting the ties between Iraq and Al Qaeda will be one of the elements of his appearance at the United Nations, touted by the White House as a presentation of the best evidence it has against Iraq that can be shared with the public.

Sincerely,

An "all-ears citizen",
elizabeth

#
posted by scorpiorising : 9:05 AM |
Thursday, August 07, 2003
The DLC is a drag.
Further analysis of the Democratic Leadership Council, and their efforts at self-sabotage, from
Tompaine.com
:
Frequently offensive, the DLC potshots have recently become perverse. Consider the scene when the DLC gathered in late July in Philadelphia for its annual "conversation." The big political news is that Bush is sinking rapidly in the polls. With unemployment up and wages down, Americans are losing patience with the Bush tax-cuts-for-the-country-club economic policy. As American soldiers die every day in the chaotic and mismanaged occupation of Iraq, confidence in the president's foreign policy acumen wanes. And the lies and dodges of the White House are now starting to erode the president's personal popularity. This president is increasingly vulnerable, the White House knows it, and activists across the country can sense it.

Joining the DLC in Philadelphia were the newly elected and attractive Democratic governors. These rising stars include Bill Richardson from New Mexico, Jennifer Granholm from Michigan, Janet Napolitano from Arizona, Kathleen Sebelius from Kansas, and host Ed Rendell from Pennsylvania. Here was the perfect opportunity to contrast Bush's failed leadership, with its catastrophic effects on the states, and the governors' leadership on bread and butter issues. The governors could connect the dots between the harsh cuts in schools, layoffs of police and firefighters and Bush's wrong-headed economic policies. The DLC could trumpet his new vulnerability and offer their leaders as exemplars of the policies that make sense for working families.

But instead, it was not Bush, but Democratic activists -- and Howard Dean -- who were in the DLC's line of fire. The Democrats are "at risk of being taken over by the far left," whined DLC Chair Sen. Evan Bayh. DLC honcho Al From declared the DLC is fighting for the "heart and soul" of the Democratic Party. Like an ideological commissar, he is exercised not about the party's direction, but about ideological deviations from DLC doctrine.
#
posted by scorpiorising : 7:36 AM |
Arianna Huffington for governor of California!!!
Arianna Huffington
has thrown her hat in the ring for governor of
California
, and I believe her interview with the editor of
Tompaine.com
clearly underlies why she deserves the support of every progressive in America.
Make no mistake, despite the circus atmospere of this race, who wins the governorship of
California
is extremely important to the rest of the nation.
California
in many respects, sets the political tone for the rest of the country. From
Tompaine.com
:
Huffington: First of all, John, governing is about setting the right priorities. If you don't or can't set the right priorities, you get to the kind of crisis we're having at the moment, where policies are determined by the highest bidder, where special interests can buy politicians, buy access and buy the policy that they want. So that's number one.

Number two is, governing involves leading. For me, that means using the bully pulpit and engaging the public. If we don't bring the people along, there are just too many influences in the system right now [that want] to preserve the status quo.

Also, the concept of the citizen-politician is central to American democracy. And the idea that experience is the most important thing is really belied by [Gov.] Gray Davis, who has held practically every job you can have in state government, and look at the state of the state. I mean, his slogan [in one campaign] was "experience money can't buy." Well, we found out that wasn't the case.
#
posted by scorpiorising : 7:20 AM |
Wednesday, August 06, 2003
Riverbend, from Mosul, Iraq
I seem to be posting a great deal on parallel universes these days, or would it be more accurate to say, alternative universes. Apparently there is one occupied by Rumsfeld, and one occupied by the people of Iraq. A woman named
Riverbend
, living in
Mosul
, sent this post to
Where is Raed?
:
Things are really bad for females everywhere. Here it's somewhat safer, but not too much. People are boiling over because of the whole Uday/Qusai saga... I mean give me a break- something like 400 troops for 4 guys??? You'd think they'd want them alive with numbers like that! People are infuriated because of the whole commotion- planes flying, Apaches hovering and freaked-out troops shooting right and left (yes, they shot civilians). Then, on top of all that crap, they decide to show the pictures on tv to 'prove to the Iraqi people' the deaths of Uday and Qusai... Pleeeeease... those pictures were obviously Bush's war trophy. And could they have come at a more convenient time for the nitwit??? I think not...

So, things are tense here. They have been since the end of the war. Someone has told troops posted in Mosul that everyone is the enemy- even little kids- so watch out! And they have been doing just that.

I'm so angry and frustrated Salam as everyone seems to be. We've got thousands of angry, ignorant American troops running around with tanks and guns pointed at everyone. What the hell happened? And since you're working with the press, what's up with not giving the number of American casualties?! It's funny how on Al-Jazeera the give the numbers in the following way: 'two wounded and two dead'... half an hour later it's: 'three wounded and one dead'- 'lo and behold! They are being resurrected!!!

Well, I'm telling you now- there have been plenty of casualties in Mosul during the 'gunfight' and after (in one of the wooded areas), but you'll be hearing about those in the following form: Troops Die in Car Accident in North of Iraq as Car Swerves to Avoid Crossing Sheep!

Riverbend
#
posted by scorpiorising : 5:39 PM |
Talk to the people.
There is one very good way to find out what is really happening in
Iraq
: talk to the people.
Where is Raed
has a daily account of life in Iraq, and things there aren't, well, quite what Rumsfeld tells you:
:: Friday, August 01, 2003 ::
I just want to make sure everyone read THIS article in the Washington Post, it freaked me out this morning:
Two hours before the dawn call to prayer, in a village still shrouded in silence, Sabah Kerbul's executioners arrived. His father carried an AK-47 assault rifle, as did his brother. And with barely a word spoken, they led the man accused by the village of working as an informer for the Americans behind a house girded with fig trees, vineyards and orange groves.
shitshitshit. and then you go talk to the US Army guys and they tell you they are fully "plugged in"and know exactly what is going on, Habibi people who keep you "informed" are being executed by their families. what surreal movie this country has become.
I am just a bit freaked out because the people I work with are making me spend the night over in Tikrit, I only hope no one sees me coming into town with the infidel americans again.
you know something has gone really wrong in your country when ou start having discussions with friends on what is the event that will make you decide to leave.

and Anthony Shadid kicks ass
:: salam 10:55 AM [+] ::
#
posted by scorpiorising : 5:32 PM |
Kucinich on the AFL-CIO forum last night.
Sometimes, I believe I must be living in a parallel universe. Some of the comments on the
Daily Kos
, pertaining to
Kucinich
, (in the open thread), focus on the style of his delivery, rather than the substance. I've always believed that substance mattered more than style, at least in my universe.
That said,
Kucinich
was awesome last night, literally. He awed me in his courage to directly challenge the other candidates by name, on a number of issues, without getting personal.
Kucinich
tends to get loud when speaking before large, public groups. One commentator on
Daily Kos
described him as "rabid". I don't know about him, but I find myself feeling quite rabid these days about the looting and "rape" of our country by the neocons.
I'm going to let
Dennis
tell you what he believes.
Dennis
was articulate and thoughtful in a recent townhall meeting in
Iowa
. Here is a link to that video on
C-Span
:
http://www.c-span.org/search/basic.asp?ResultStart=1&ResultCount=10&BasicQueryText=kucinich+in+iowa&image1.x=16&image1.y=4
Here is the link to the video of the forum last night on
C-Span
:
http://www.c-span.org/#?Cat=TV&Code=VA&ShowVidDays=30&ShowVidDesc=
I hope that we all take the time to listen to
Kucinich
as he takes on many issues, and enjoy.
#
posted by scorpiorising : 6:47 AM |
Tuesday, August 05, 2003
Huh?
Just when I finished the previous post, I hear
Chris Matthews
of
Hardball
and guests screeching about
Bill Clinton
giving advice to the demos
as to how to beat Bush, and that he can be beaten in 2004. We lovingly welcome Bill Clinton back into our ranks. Let's just hope he stays there:
CHICAGO -- Former President Clinton rallied the ground troops of the Democratic Party -- organized labor -- with a pep talk to union leaders gathered yesterday to draw up a political strategy they hoped would take back the White House in 2004. Speaking privately to union political directors, Clinton told them President Bush can be beaten next year. What is needed, he said, is the right emphasis on the underperforming economy, unemployment, tax cuts that have benefited the wealthy, and questions on the war in Iraq and the credibility of the administration's case for war.

The AFL-CIO's executive council meeting officially opens today, with union presidents set to gauge whether Democrat Richard A. Gephardt, who received organized labor's endorsement in 1988, when he last ran for president, can muster support for a laborwide endorsement this time. Gephardt and the other eight Democratic hopefuls will participate in a presidential forum in the evening.

Perhaps the dress rehearsal for labor in 2004 is coming in California, where Democratic governor Gray Davis faces an October recall election. Davis, who received big backing from organized labor in his previous two elections, sought labor's help again yesterday in meetings with AFL-CIO President John Sweeney and other officials. He was to address the full council, which meets in closed sessions, today.

Davis had an hourlong private meeting with Clinton. Neither man would discuss the substance of their talks.
#
posted by scorpiorising : 5:33 PM |
Will the real Bill Clinton please stand up.
Further thoughts on the loyalties of
Bill Clinton
. I could see that he would lend much hope and enthusiasm to the thought of
Hillary
winning the White House in 2008. However, there may not be the 2008 that he dreams of, in quite the way he dreams of it, if
Bush
wins re-election.
I also have to wonder, though it is still early, why we don't see Clinton encouraging the current crop of democratic candidates?
Why don't we hear Clinton stressing the importance of trust, in terms of the presidency? Well, I guess I might have answered my question on that issue.
Not that Clinton hasn't criticized this administration.
In April
, he criticized Bush's foreign policy, in essence, taking on our tendency to snub our nose at our detractors these days.:
Our paradigm now seems to be, something terrible happened to us on September 11, and that gives us the right to interpret all future events in a way that everyone else in the world must agree with us. And if they don't, they can go straight to hell," Clinton was quoted as saying in a Tuesday AFP report.

Clinton also went on to declare that "you cannot kill, jail or occupy all of your adversaries, sooner or later you're going to have to make a deal." The report also noted that Clinton had suggested the administration was unable to balance foreign and domestic issues, and that the White House had overreacted to French and German opposition to the war.
Clinton,
in July of 2002
, criticized Bush for trying to pin the corporate malfeasance issue on his two terms in office. He threw a jab in at Bush's Middle East Policy as well:
Clinton said Republicans on Capitol Hill had impeded his proposals for protecting investors. Referring to Bush, Clinton said, "There was corporate malfeasance both before he took office and after. The difference is I actually tried to do something about it, and their party stopped it."

In April, Bush said that Clinton's failed efforts at peacemaking had resulted in more Palestinian violence. In the interview, Clinton criticized Bush's initial disengagement from the Middle East. "I think it was a mistake to get out for a year," he said. "The important thing is that, right now, that they be involved. I always thought that Secretary [of State Colin L.] Powell wanted to do that."
In February of 2003,
Clinton criticizes the tax cuts and our decision to not allow the inspectors in Iraq more time:
Clinton said President Bush "deserves a lot of credit for saying we can't just ignore (Saddam's defiance of United Nations resolutions) forever." But he said the United States should give inspectors "a little more time" to look for weapons of mass destruction if that might persuade France, Germany and Russia to support military action to disarm Iraq...

...Saying he would get political on only one issue, Clinton said the 2001 tax cuts were a bad mistake. He said the latest tax cuts proposed by Bush would compromise America's goals of making this country and the world better.

"We cannot meet these commitments and keep giving tax cuts to people of my income bracket," he said.
In an interview with the
Guardian.co.uk
, he seems to support Blair and Bush, particularly Blair, in their efforts to gather the international community in support of the war, in an article titled
Trust Tony's Judgement
:
I wish that Russia and France had supported Blair's resolution. Then, Hans Blix and his inspectors would have been given more time and supprt for their work. But that's not where we are. Blair is in a position not of his own making, because Iraq and other nations were unwilling to follow the logic of 1441.

In the post-cold war world, America and Britain have been in tough positions before: in 1998, when others wanted to lift sanctions on Iraq and we said no; in 1999 when we went into Kosovo to stop ethnic cleansing. In each case, there were voices of dissent. But the British-American partnership and the progress of the world were preserved. Now in another difficult spot, Prime Minister Blair will have to do what he believes to be right. I trust him to do that and hope that Labor MPs and the British people will too.
And I know a good, used car salesman. If I could see the hype in
Tony Blair's
rhetoric...perhaps
Clinton
suffers from a case of over-identification with those now in power, as though he were the one still making the decisions.
Here, you wish Bill Clinton had
kept his mouth shut
. I'm also convinced he's living in a parallel universe of some sort, in which he see events through the rosy glow of his own glasses:
I thought the White House did the right thing in just saying 'we probably shouldn't have said that,' " Clinton told CNN's Larry King in a phone interview Tuesday evening.

"You know, everybody makes mistakes when they are president," Clinton said. "I mean, you can't make as many calls as you have to make without messing up once in awhile. The thing we ought to be focused on is what is the right thing to do now. That's what I think."
What he seems to gloss over, is that we are dealing with intelligence exaggeration, even possibly falsification, throughout the administration's rationals for this war. This
is
war, for the soul of the country, and
Clinton
wants to forgive an exaggeration or two, that led to the deaths of thousands of innocents.
What Las Vegas world is he living in?
Then I have to wonder if he isn't withholding harsh criticism of the band of thugs running the White House, in hopes for a
Hillary run for the White House in 2008
:
Bill Clinton: Not If, but When for Hillary Run
Phil Brennan, NewsMax.com
Sunday, Aug. 18, 2002
Former president Bill Clinton has confirmed NewsMax.com's exclusive reports that his wife is hot on the trail to the White House.
Clinton speaks about his wife's run for the presidency as a matter of "when," not "if," say people who have discussed it with him, according to Associated Press reporter Ron Fournier. And several of her associates said she is eyeing 2008 as the year to run.

And the senator is wasting no time gearing up for a run to take her husband's former job in the White House Fournier writes, revealing that she's been busy trying to play down her image as a flaming liberal, hitting out at President Bush, and going to the aid of fellow Democrats who will be in her debt and obliged to come to her aid when she makes her bid for a White House run in 2004 or 2008.

At the moment it seems to be 2008, if, that is, she honors her pledge to serve out her six-year senatorial term which ends in 2006.

"I have no plans to run for president," she told Fournier with what we assume was a straight face during a telephone interview.

Everything she's doing, however, betrays her claim that she is not running hard for the White House and the chance to be America's first woman president. Fournier listed her actions in this regard:


She's given almost "$600,000 to 73 Democratic candidates across the country through her political action committee (PAC) and has raised even more money by headlining fundraisers.

She lent a helping hand to candidates in key early presidential primary states such as Iowa and New Hampshire. Her PAC has given about $15,000 to New Hampshire candidates in tight races and about $21,000 to those in Iowa
She also attended a fundraiser in February for Iowa Gov. Tom Vilsack and helped raise $20,000 at a New York fundraiser for New Hampshire Gov. Jeanne Shaheen, who is running for the Senate, according to Fournier. Moreover, on Sept. 18 she'll stage a fundraiser at her Washington residence for Julie Thomas, a congressional candidate from Iowa.


She's vigorously defended her husband's largely indefensible record as president in the face of attacks from Republicans, at the same time sharpening her criticism of President Bush.

She wooed the party's moderate wing by giving a keynote speech to the so-called "centrist" Democratic Leadership Council.

She has sided with Republicans or centrist Democrats on bankruptcy, welfare and anti-Hollywood legislation.
"It used to be that Democrats came to Washington hoping to work for Ted Kennedy," Donna Brazile, Al Gore's campaign manager told Fournier. "Now they want to earn their stripes with Hillary."
Funny, but
Ted Kennedy
seems more aware of the relevance of the seriousness of the mess we're in as a result of this war, than
Bill Clinton
.
Clinton
appears to greatly underestimate the importance of trust between the president and the rest of the country. It appears
Bush
can't be believed when it comes to the intelligence used to justify the war. Isn't this important, and not just a minor matter of making a mistake with 16 words?
#
posted by scorpiorising : 3:59 PM |
Help, I'm stuck in 1992, and I can't get out.
I can understand the
Democratic Leadership Council
gunning for a "centrist" candidate, but for the
DLC
to say that attacking
Bush
on the tax cuts, and the reasons for this war, is a form of political suicide, I would say the
DLC
is practicing the very thing that it is afraid of.
The
DLC
is afraid of losing, and it is becoming a sort of self-fullfilling prophecy. They are in danger of throwing the baby out with the bathwater; in this case, a deanie baby.
I am encouraged these days by the enthusiasm of democratic supporters, and we need this enthusiasm, no matter who the nominee is when it is all said and done, if we are going to beat
Bush
. The
DLC
is trying hard to be a wet blanket right now, moldy and cold. As far as I can see right now, it appears most demo supporters are throwing off that wet blanket. Lucky for us, demos are not bowing down to worship the words and wisdom of the
DLC
. It is the
DLC
who are in danger of becoming irrelevant.
I can't help but feel that
Bill Clinton
is behind some of the attacks on the demo candidates, and the recent policy of the
DLC
, as the two are supposedly tight. Remember, Clinton is a past president of the DLC, and
Clinton supported this war
from the beginning. The blogosphere is where one can allow one's paranoia to express, if one is carefull, and it may be paranoia that I am feeling in regards to
Clinton
; but...
what with his recent support of George Bush
...I had a feeling of a
Bill Clinton
completely out of touch with the anguish of many Americans, whether over the war or the economy. He appears locked in his ivory, Harlem tower.
Back to the subject of
Dean
. I am a hard-core
Kucinich
supporter, but Dean is getting all the attention, and he is getting some good knocks in as well. Just
check out his ad
he is running in Texas this week.
While Bush "fishes" for the big catches on his vacation
,
Dean
takes him on in his home state of
Texas
. Coudn't be better timing.
Joan Walsh
, editor of
Salon.com
, takes on the issue of the DLC and bad politics:
July 29, 2003 | Has Karl Rove taken over the Democratic Leadership Council? I can't think of another explanation for the centrist clique's destructive guerrilla war against fellow Democrats. Tuesday's New York Times outlines the latest assault: A DLC conference this week devoted to blasting the party's presidential hopefuls for their "far left" critique of President Bush's budget-busting tax cuts and his dishonesty in leading the nation into war. If hitting Bush on those blunders really makes Democrats unelectable, the nation is in worse trouble than the DLC thinks.

No one knows right now which issues will carry the day come November 2004. Bush is stumbling lately, but an economic rebound and some success in pacifying Iraq could send his poll numbers soaring again. The left's perhaps-fatal weakness is wishful thinking about Bush's vulnerability. Yet two facts are and will remain politically crucial: The economy is a shambles at least partly because of Bush's wrongheaded, reward-the-rich tax cuts, and the nation still doesn't know the truth about why we started a bloody, costly war that's a long way from over. Democrats can and do disagree about how to deal with both sets of issues -- how to repair the economy as well as Iraq -- but saying the party shouldn't criticize Bush's approaches is dangerous and delusional.

I live in California, though, and this behavior is familiar to me: It's the standard M.O. of the state Republican Party, whose annual conventions always feature a circular firing squad as part of the entertainment. Decades of ideological infighting and far-right litmus testing has ensured that only the least electable GOP candidates survive in California. Of course there's a key difference between the DLC and California Republicans, in that the centrist group insists it's opposed to extremism, and only wants to make the party more palatable to mainstream voters, while the state GOP seems determined to advance only the most extreme politicians to its top ranks. But the Democratic centrists seem in danger of adopting a political terror strategy that resembles the California GOP's, and it involves doing the enemy's work for them: damaging your own party's candidates by declaring them ideologically flawed and unelectable before the other side has a chance to.
#
posted by scorpiorising : 7:32 AM |
Monday, August 04, 2003
We need democracy in the army.
This is why soldiers should not surrender their right to free speech when they join the military. This is why Rumsfeld's plan to overhaul the army should be viewed with extreme caution, and even horror. This is why the voices of the mostly working-class grunts who make up the army matter. This is why we should not support a policy of preemptive war. This is why wars should be fought only as a last resort. This is why...
from David Hackworth
, this feedback from a soldier in Iraq:
Feedback from Iraq
Imagine this bastard getting away with such crap if we had a draftee army?

"I do know there are people living in areas with running water and A.C. That, of course, is not us... although my COL lives like that. I do believe he was shielded from the reality by his staff for a while. As we crammed 50 soldiers in to two medium frame tents near a pond of dead fish which was also infested with mosquitos and there was absolutely no field sanitation support for miles, he was living in his own room inside an air conditioned building, had his own king size bed, his own bathroom, his own refrigerator, and his cappuccino machine. It was two weeks before he came down to see where the soldiers were living and that was only after the S4 and CSM kept blowing me off... so, I had to get the Corps Surgeon involved for sanitation reasons.

I do believe the COL is entitled to a higher standard of living, however, the inequality was astounding and even more was the fact that he tried to hide it, by posting guards at the entrance to the hallway and didn't say more than two words to any of the soldiers until two weeks after our arrival in Baghdad. We just needed to hear that he understood our situation and was doing everything he could to improve it."
#
posted by scorpiorising : 6:34 AM |
Sunday, August 03, 2003
Tony Blair is a coward.
God forbid that the
British
detainees in
Guatanamo Bay
, would be afforded anything close to real justice. As far as
Tony Blair
is concerned, they need not be brought back to England where they just might be released due to a lack of evidence, nothing too, too important. And we wouldn't want to embarass the British government, least of all Tony Blair, by anthing amounting to real justice for the British detainees at Guatanamo Bay.
Not only is Blair a coward, his priorities are up his arse-hole. From
the Agonist
originally, this
Telegraph.co.uk article:
The Government has told America that it does not want the Britons held at Guantanamo Bay in Cuba to be returned for trial in Britain.

Whitehall officials say that the message that Britain does not want its nine detainees returned was conveyed privately to President George W. Bush during the recent visit to Washington by Tony Blair.

The decision comes after advice from government lawyers that it would be very hard to mount a successful prosecution in Britain because of the difficulty in obtaining evidence that is admissible in court. There are also fears that any public trial in Britain would force the disclosure of intelligence operations against al-Qa'eda in Afghanistan and elsewhere.

The Government is also concerned that the collapse of a prosecution in Britain would anger the public and be politically damaging.

A Whitehall aide said: "The Prime Minister made clear to the president that it was unlikely the men would face trial in Britain and that it could be embarrassing if they were released on their return after the US had branded them as major players in a terrorist network."
#
posted by scorpiorising : 7:09 AM |