Saturday, October 18, 2003
Perspective.
I was in need of some perspective today, and the
Guardian provided it
with this article:
A Republican rebellion in the Senate against White House plans for rebuilding Iraq raised questions yesterday about President George Bush's authority in Washington as he struggles to maintain control of a divided administration.

A late-night Senate vote to turn half the $20bn (£12bn) Iraq reconstruction budget into a loan marked a serious setback for the administration, which had wanted all the money in the form of a grant. It also came as a personal defeat for the president
.
On Tuesday, Mr Bush had called in nine Republican rebels and ordered them to support his version of the bill, reportedly
slamming a table at one point and refusing to answer their questions.

The outburst did him little good. Eight Republican senators voted against the administration on Thursday. One rebel, Senator Olympia Snowe of Maine, said: "It was very difficult to stop this train because it made so much sense."
#
posted by scorpiorising : 6:14 PM |
Major Barbara is on it!
Arms and the Man, aka Major Barbara, is on this feast of corruption in Iraq. He links us to Minnesota public radio, thanks to
Josh Marshall
, and an unbelievable recording of an American businessman, talking to an Iraqi businessman. I am embarrassed for my country.
Link to
Arms and the Man
, and scroll down to October 14 at 5:55pm for a link to the audio. It is worth five minutes of your time for this revelation as to how we are doing business in Iraq.
#
posted by scorpiorising : 10:52 AM |
We are being fleeced.
I'm so mad today, I can hardly speak without spitting. Our representatives in Congress are going to approve the fleecing of America through the 87 billion dollars, despite allegations of kickbacks, despite allegations of inflated cost estimates, despite the way this thing has been handled from the beginning.
Some of our "representatives" in Congress are over-paid plutocrats who apparently don't give a hoot about the average joe struggling to make ends meet, who are now going to have to foot a bill for a war we are losing, a war that wasn't needed in the first place.
This bill might be the straw to break the camel's back, when the
true nature of how this money is being spent
will leak out, pour out, spill out like a sieve of revolting intelligence agents.
Arms and the Man
, I hope you're on this. I'll help too, in terms of tracking down whatever articles I can on the corruption that is happening while we speak in that sad, broken country, with our money.
Shame on the democrats who were
cowards in voting for this bill
. Thank you Congressmen William Jefferson from my home state for voting against the bill. Thank you, of course, Kucinich, Pelosi, Jackson-Lee and many others in the House of Representatives who had the courage and the balls to
stand up to corruption
.
Thanks to
Senators
Kerry, Graham, Edwards, Jeffords, Kennedy and of course, the very courageous Senator Robert Byrd, who in my view, is the greatest living, American statesman, with Kucinich a close second.
Kerry and Edwards grew their balls back. Daschle did not. Gephardt continues to be ball-less, and apparently, despite his retoric, I met in the Rose Garden, blah, blah, blah and told the president blah, blah, blah, he is willing to fund an unjust and unwise war and enrich all the president's men.
Senator Boxer against. Senator Feinstein, for. Check the records for yourselves. I've provided the links. Despite this vote, this battle has only just begun.
#
posted by scorpiorising : 10:05 AM |
Thursday, October 16, 2003
Touch-screen hacking.
This is an issue that frightens me more than any other right now, as there is no way to determine if the companies who manufacture voting machines, have hacked their own machines in favor of certain candidates. There are many sub-issues to this issue, sub-plots and what appear to be schemes. It is very much like venturing down the rabbit hole and swallowing the pill, in order to understand the terrain. The terrain in this case is the possibility of vanishing votes because there is no paper trail. The terrain is also little regulation and oversight over these new machines, so that we don't know what the heck the companies are doing to the machines when they institute software changes, patches, especially at the last minute, which has happened a number of times.
This is the most serious issue of our day and the greatest threat to democracy that we face. If we don't confront the companies and politicians that have bought into this electronic voting machine fallacy, then we may lose our democratic voting apparatus, and we'll lose our country.
From
Salon.com
, more on the issue, and on the wonderwoman Bev Harris, who began the questioning:
She began by looking into Election Systems & Software, the world's largest election supply company, based in Omaha, Neb. Harris quickly found that ES&S was owned, in part, by a merchant banking holding company called the McCarthy Group and that the firm's chairman, Michael McCarthy, was Chuck Hagel's campaign treasurer. After searching news archives, Harris found that during Hagel's first campaign, in 1996, the Nebraska media reported that he had been president of ES&S -- which at the time was called American Information Systems -- between 1992 and 1995. But the articles suggested that Hagel was no longer affiliated with the voting equipment company. Harris saw election records that showed Hagel still holding between $1 million and $5 million worth of stock in McCarthy, which owned about 25 percent of ES&S.

Harris had stumbled on what seemed to be a striking conflict of interest -- a U.S. senator owned a share in a company that built all the vote-counting machines in his state. She put up the relevant documents on her site, "and immediately I knew I'd hit a sore spot," she says, "because right away I got a threat letter from ES&S."
#
posted by scorpiorising : 1:51 PM |
Halliburton accused of fleecing.
This is good news, as apparently people are beginning to wake up the the outrage of Halliburton, with close ties to the Vice-President, making a fortune off of this war. The latest has Halliburton charging the American taxpayer inflated prices for oil to deliver to Iraq, then selling it cheap in Iraq.
What the heck
?
Reps. Henry Waxman of California and John Dingell of Michigan are on it, as is the army and Army Corps of Engineers, the jerks that gave Halliburton the no-bid contract to begin with. Senator Lautenberg of New Jersey wants to bar companies with close ties to the president and vice-president and the cabinet from receiving contracts to rebuild Iraq.
Better late than never, but Jesus Christ, glad you guys are coming around to the greatest fleecing of the American taxpayer ever that this war is, among other atrocities:
The U.S. Army Corps of Engineers, which chose Halliburton, has received bids for a replacement contract that could be awarded this month.

Corps spokesman Robert Faletti said he could not confirm the figures that Waxman and Dingell cited in a letter to Joshua Bolten, director of the Office of Management and Budget.

He said, however, that the contract is being audited by Congress and the Army.

In a further move against Halliburton, Sen. Frank Lautenberg, D-N.J., announced Wednesday he would propose barring the government from awarding Iraq reconstruction contracts to companies that maintain close financial ties to the president, vice president or members of the president's Cabinet.

Lautenberg wants the measure added to an $87 billion reconstruction bill for Iraq and Afghanistan.

Cheney receives deferred payments from Halliburton and also has stock options.
#
posted by scorpiorising : 8:22 AM |
Liar, liar, pants on fire.
I can't tell you how many times my mother and I have sung this tune, liar, liar, pants on fire, when hearing about the latest lies exposed of the Bush administration. It seems Ben Cohen of Ben and Jerry's fame is
taking it a step further
. He now heads the political action group, True Majority, from whom I receive email updates. He has created a huge, Bush in effigy with flames shooting out of his pants, and he drove the thing from his home in Vermont to Manhattan, and meet the press there yesterday.
I'm so glad the thing didn't catch on fire, although that might have actually been kind of appropriate.
I couldn't find a damn thing on the
True Majority web site
as to how this went, but I haven't heard of any tragic, unusual fires either, so I guess no news is good news.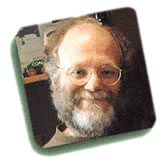 Ben Cohen
#
posted by scorpiorising : 7:55 AM |
Australian parliament censures it's prime minister.
I didn't hear about this because I am sure the GOP leaning media didn't want me to hear about this, and I missed it somehow on the internet. Anyhow, that marvelous group known as the Veteran Intelligence Professionals for Sanity (where were they during the Iran/contra scandals), tell us that
one person can make a difference
:
Our most recent open appeal to you, "Now It's Your Turn," was made on August 22, 2003. On that same day, it turns out, former Australian intelligence analyst Andrew Wilkie testified before a parliamentary committee examining the justification given by Prime Minister John Howard for Australia's decision to join the war in Iraq. Wilkie had been a senior analyst in Australia's premier intelligence agency, the Office of National Assessments. Of all the Australian, British, and American intelligence analysts with direct knowledge of how intelligence was abused in the run-up to the war—Wilkie was the only one to resign in protest and speak truth to power.

Those who dismiss such efforts as an exercise in futility should know that, on October 7 the Australian Senate, in a rare move, censured Howard for misleading the public in justifying sending Australian troops off to war. The Senate statement of censure noted that Howard had produced no evidence to justify his claims last March that Iraq had stockpiles of biological and chemical weapons, and castigated him for suppressing Australian intelligence warnings that war with Iraq would increase the likelihood of terrorist attacks. One senator accused Howard of "unprecedented deceit."
#
posted by scorpiorising : 7:45 AM |
A startling revelation.
Here is a startling revelation from an ex-aid to Colin Powell, whom I guess wants to clear his own conscience for not coming out sooner about this: Colin Powell misled the American people in this rush to war. That's right folks, you heard it here first.
I hope this turns out to be as important as Joseph Wilson turning the tables on Bush and his faulty intelligence. We can only hope. From
Common Dreams
:
Greg Thielmann tells Correspondent Scott Pelley that at the time of Powell's speech, Iraq didn't pose an imminent threat to anyone – not even its own neighbors. "…I think my conclusion [about Powell's speech] now is that it's probably one of the low points in his long distinguished service to the nation," says Thielmann.
#
posted by scorpiorising : 7:38 AM |
Wednesday, October 15, 2003
Just Say No to 87billion dollars for Iraq.
The best think that Nancy Reagan ever did for this country, was emphasize these three words: Just Say NO. I don't say this in appreciation for the drug wars that the three words, just say no, were originally associated with.
I am against the drug wars.
I am also against spending 87 billion in Iraq which is the same as pouring 87 billion dollars down a black hole. You don't know where it will end up in time and what it will end up doing or causing. You don't know whose pocket its going to line.
Just say no to the 87 billion dollars proposed spending for the reconstruction of Iraq
. I do favor spending some of that dough on the troops, if it means making their lives a little easier while they are there. I've heard of shortages such as toothpaste, the essentials.
I called my senators today,
Terry Breaux
and
Mary Landrieu
. Both women I talked to seemed rushed; hurried. I called Landrieau's office back, because usually they ask for your name and address, and they didn't this time. I told the woman that I felt rushed when I spoke to her before, and she said she was sorry, but they were getting 3 calls per minute. I don't know if she was exaggerating. I asked her if the calls had to do with the 87 billion for Iraq, and she said "yes".
I was thrilled. I got chummy with her and asked her how the votes were leaning, and she said the vast majority, almost 100 percent, was against the spending. She said out of the hundreds of calls, only two expressed support for the 87 billion.
I thanked her and said I look forward to receiving Ms. Landrieu's response. I know it is a waste of mail and paper, but she always sends a letter stating a response regarding the issue that you phoned or wrote or emailed her about. It may be that she puts together form letters for the different issues. I sort of don't mind, because at least she is stating her position and doesn't mind that her position is identified. This is what distinguishes a true servant of the people from a charleton, like Arnold Schwarzenegger, who seemed to loath having to define his stances on the issues, and certainly not spontaneously with reporters.
I may not always agree with Mary, but I think she is really trying to fullfill the duties of her job.
Everyone, please help keep those men and women arming the offices of our senators and representatives, breathless and scrambling to keep up with our willingness to share our views with them. It could shake things up, and its a start.
#
posted by scorpiorising : 3:38 PM |
Tuesday, October 14, 2003
What happened in California.
I am beyond words, or maybe short of them, to explain what happened in California. But I'll try anyway. I'm hoping what happened had much more to do with the power of the personality of Schwarzenegger, but as soon as I say that, I also know I am lying to myself.
Californians, the ones who voted for Schwarzenegger, were no more informed of the origin of the economic problems there, than my neighbor's poodle. Otherwise, they would not have
voted for a republican who met with Ken Lay and other enronites
to plot to take over the energy market there, through deregulation, and set their inflated prices. This takeover was successfull, at least temporarily, by-the-way, causing shortages of electricity and blackouts and just plain hell.
It was so successful, that Arnold
wants to do it again
.
Can you think of a single Enron executive who has been prosecuted for his crimes against the people? Not a single one, yet.
This California nightmare was a collision between the power of Arnold's personality, anger and voter helplessness over the economic near-collapse of the country, including the shrinking money resources of California. Top it with voters being ill-informed over causes of shrinking California resources, which has more to do with the policies of President George Bush. Somehow Californians seem to neatly slice Bush out of this equation, laying the blame squarely at the feet of a democratic governor and the democratic legislature. The democratic party would not have been so vulnerable to this charge if there wasn't an element of truth to it. Like Arnold said, "Where's there's smoke, there's fire".
This election is a wake-up call to the Democratic party in California and the nation. More than any other lesson, this is the one that ought to be heeded.
The democratic party is vulnerable if its interests are obviously tied to special interests. Perhaps we are seen by voters as the saviors of the people, as the party of the people, so more is expected of us, while Republicans get away with murder. So be it. Let's be the party of the people, and watch the people come to us in swarms.
The Democratic Pary, clean up your house, please. You are all we the people have right now. Americans just aren't ready to vote Green yet.
The Schwarzenegger election might be a trend, but I have this feeling that he will eventually be seen as the George Bush in Schwarzenegger/clothing that he is. As he begins to screw the California economy to help a few of his rich cronies become even richer, the people of California will have a change of heart and realize the quality of the facism they elected. Of course, I'm trying to read the future here, and I have no proof this is going to happen, just a feeling.
Read for yourself Mike Taylor, and what he calls
California's Day of the Locust
, and goddess help California and the rest of this nation, because there is a brown shirt with a swastika on his sleeve lurking in the shadows:
Yet, I don't want to suggest that this is a simple repeat of anti-immigrant Proposition 187 in the context of a recession and a nationwide crisis of state financing. Arnold Schwarzenegger does add something genuinely novel to the mix. He is not just another actor in politics but an extraordinary lightning rod, both in his movie persona and in real life, for dark, sexualized fantasies about omnipotence.

Pleasure in the humiliation of others -- Schwarzenegger's lifelong compulsion -- is the textbook definition of sadism. It is also the daily ration of right-wing hate radio. As governor he becomes the summation of all smaller sadisms, like those of Roger Hedgecock that in turn manipulate the "reptile within" of millions of outwardly affluent but inwardly tormented commuter-consumers. In their majesty, the predominantly white voters of California's inland empires and gated suburbs have anointed a clinically Hitlerite personality as their personal savior.

The last word about all this should, of course, belong to Nathanael West. In his classic novel The Day of the Locust (1939), he clearly foresaw that fandom was an incipient version of fascism. On the edge of Hollywood's neon plains, he envisioned the unassuageable hungers of California's petty bourgeoisie.

"They were savage and bitter, especially the middle-aged and the old . . . Their boredom becomes more and more terrible. They realize they've been tricked and burn with resentment. .. Nothing can ever be violent enough to make taut their slack minds and bodies."
#
posted by scorpiorising : 2:33 PM |
America the destroyer.
There were many reasonable, civilized people who thought we should attack Afghanistan after 9/11, to destroy Bin Laden and the Taliban. I was not one of them, although I'm not sure this necessarily qualifies me as more
reasonable
or
civilized
, especially after a bottle of red wine.
However, I am sure the Kuchi Nomads of Afghanistan are wishing for a little reason and civilization, so that they can get on with their wandering ways. From Professor Marc Herald's
Afghan Canon
:
"Nomadic tribesman Haji Lawang saw the outline of the helicopter in the night sky and heard its roar as it streaked low over his three tents. A moment later, an explosion shook the ground and fire flew up from the desert about a mile away. The 50-year-old huddled with his two wives, four children, goats and camels and prayed his family wouldn't also be attacked. At dawn, he went out to investigate and found his neighbors' camp in ruins. Five women and four children were dead and six people were wounded, he said.

#
posted by scorpiorising : 10:08 AM |
The Art of Modern Pillaging.
Brian Whitaker of
the Guardian
introduces us to the modern version of pillaging, which is now called "economic development". He points out that the selling off of Iraqi businesses is actually illegal, under the Hague regulations of 1907:
Last month, Mr Bremer issued CPA order number 39, giving foreign investors unrestricted rights to establish businesses in Iraq and/or buy up Iraqi companies.

The order also allows foreign investors to repatriate profits, dividends, interest and royalties immediately and in full. In other words, they can make a fast buck if they want to, without putting anything back.

While few would disagree that Iraq's industry needs modernisation and restructuring, two questions arise: has Mr Bremer the legal powers to do this, and is he going about it in the right way?...
...Mr Bremer shows little interest in drawing lessons from the problems caused by economic "shock therapy" reforms in the former Soviet Union, and in Iraq - with the added factor of military occupation - this can only fuel hostility towards the US.

His order number 39 is also, almost certainly, illegal. The Hague regulations of 1907 spell out the obligations of an occupying power under international law.

Article 43 says that, when occupying forces take over a country, they must "ensure, as far as possible, public order and safety, while respecting, unless absolutely prevented, the laws in force in the country".

This means that Mr Bremer is not allowed to change Iraq's existing laws, including those that govern investment, unless it is "absolutely" essential to do so.

Article 55 says that an occupying power is only the "administrator and usufructuary" of state property. "It must safeguard the capital of these properties, and administer them in accordance with the rules of usufruct," it adds.

Mr Bremer, therefore, appears to have no right to sell off nationalised industries.
#
posted by scorpiorising : 9:37 AM |
If it's the people, its socialism; if it's corporations, it's...something else.
A shorter Paul Bremer (inspired by
elton beard
):
Although this might cause riots...
"We will
discontinue the world's most efficient
food distribution program, the Iraqi oil for food, which feeds 60% of Iraqis, because it is a dangerous socialist anachronism, while continuing our
welfare for corporations
program, with Halliburton as the main beneficiary."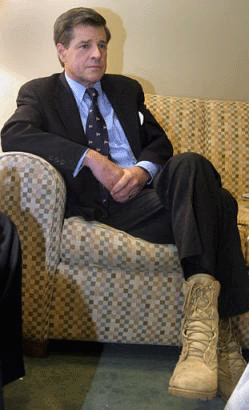 Bremer and his boots
#
posted by scorpiorising : 6:54 AM |
Monday, October 13, 2003
The Berlin Wall, the Israeli Wall
Who can forget the sight of jubilant east and west Germans climbing atop the graffiti layered brick wall that was the Berlin Wall, as it literally crumbled beneath the blows and hammers of free hands, in late 1989. The Berlin Wall was a daily reminder for Westerners, not only to stay the course as far as combating the Soviet ruled "evil empire", but also to stay on guard aginst the loss of liberty within our own borders, within our own hearts.
I'm well aware of the relativity of problems within the old Soviet system, relative to our own, that is, and also the gradual erosion of voter participation here in the political process, and reasons and causes of said lack of participation.
Yet the destruction of the Berlin Wall was a reminder, and a victory, that reason and will can triumph over oppression. We are never more in need of this reason, and a will, to overcome a new wall going up, a wall that , as the Berlin Wall accomplished, will highlight in dramatic fashion the distinction between a free people, and a people imprisoned within their own fearful beliefs.
With the construction of the Israeli Security Fence, the wall is growing within the hearts of Israelis, and the Americans who continue to support this form of Middle East apartheid. This blatant land grab and isolation, and therefore economic destruction, of the Palestinian people, is being constucted on schedule. Have we forgotten our lessons of liberty, our origins as terrorists to the British rule?
This article from the
ST. Petersburg Times
:
Israel's goal, Palestinians charge, is to grab the West Bank's richest farmland and water resources, and make it impossible for Palestinians to ever have a viable state of their own.

"If Israel needs to do something for security, why not do it on the '67 border?" asks Fayez Salem, mayor of the village of Jayyous. "It would be no problem because we know this area is for Israel and this area is for us.

"Okay, so why don't they do it? It's because they want to steal our land."

The director of the fence project acknowledges that 85 percent of the land taken so far came from Palestinians and just 15 percent from Jewish communities. The government, though, insists that the Palestinian land is being used only for "military needs" until the end of 2005 and that the owners retain title.

But "over the decades, Palestinian land "temporarily' seized by Israel has been used to build permanent structures, including settlements and roads, and has never been returned to its owners," says the human rights group Amnesty International.
#
posted by scorpiorising : 9:31 AM |
A Smorgasbord of electoral fun.
According to an old story, Benjamin Franklin was confronted by a woman as he left the last session of the Constitutional Convention in Philadelphia in September 1787.
"'What kind of goverment have you given us, Dr. Franklin?' she asked. 'A Republic or a Monarchy?'
"'A Republic, Madam,' he answered, 'if you can keep it'."
--My Govenment book.
I can honestly say, Benjamin Franklin, that I never imagined growing up in a time when our democracy was threatened. But then again, if you read Howard Zinn, Americans have been living under the false illusion that democracy as practiced here, is pure and idealogical. How quickly we bury historical remembrance of fixed elections, corporations driving us to war, and the physical brutality and economic oppression of the working people.
Corruption in the democratic process is nothing new, and fixed and corrupt elections are nothing new. What is new, is the idea that a few corporations might own all of the voting machines in this country one day, and that these corporations are self-proclaimed supporters of the Republican party. There have already been questions and possible fraud practiced by these companies in American elections, as evidenced in this article posted on
CommonDreams.org
by Andrew Gumbel from the Independent.uk.
Body and Soul
linked to
Mark Crispin Miller
, who detailed electronic voting machine problems in the recent governor's race in California.
In the
Gumbel article
, it is noted that strict trade secrecy contracts between states and the voting machine companies, is making it difficult to re-count votes after elections:
It is still unclear exactly how results from these missing cards were tabulated, or if they were counted at all. And we will probably never know, for a highly disturbing reason. The vote count was not conducted by state elections officials, but by the private company that sold Georgia the voting machines in the first place, under a strict trade-secrecy contract that made it not only difficult but actually illegal - on pain of stiff criminal penalties - for the state to touch the equipment or examine the proprietary software to ensure the machines worked properly.
What American citizen, politician or no, in their right mind, would agree to a trade secrecy contract with an electronic voting machine company, that would prevent open and public counts, and recounts of votes in closely contested races. This is idiocy, and such a direct and obvious violation of basic democratic principals that even John Ashcroft ought to be able to perceive the violation.
The representatives of the people who agreed to such contracts ought to be run out of town. From the Gumbel article:
Astonishingly, these are the terms under which America's top three computer voting machine manufacturers - Diebold, Sequoia and Election Systems and Software (ES&S) - have sold their products to election officials around the country. Far from questioning the need for rigid trade secrecy and the absence of a paper record, secretaries of state and their technical advisers - anxious to banish memories of the hanging chad fiasco and other associated disasters in the 2000 presidential recount in Florida - have, for the most part, welcomed the touchscreen voting machines as a technological miracle solution.
We'd better wake up soon, or we will be living in the land of illusion. Illusory elections in which a winner is declared, with few bothering to vote, because the machines are rigged. Cynicism and helplessness will be rampant in those desiring change, apathy in those not wanting to know, and the corporations will run the country in collusion with corporate politicians. Oops, guess I just about described our current state of affairs.
#
posted by scorpiorising : 8:41 AM |